OUR PURPOSE
Extraordinary Caring. Every Person. Every Time.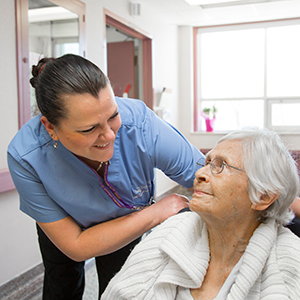 At Niagara Health, Extraordinary Caring is what our patients, their families, our volunteers, our teams, and our community need and deserve. Caring is so much more than care. Both the physical and emotional part of caring is at the heart of our purpose. 
We know that the most advanced equipment in the world isn't enough, it takes more to put a smile on a lonely face or warm the spirit of someone fighting overwhelming odds. It takes a personal and genuine commitment to caring, a true belief that we can really make a difference in people's lives. Caring is about attitudes, behaviours and actions - not only for our patients and their families, but also for each other as care providers and team members. It includes attentive listening, being respectful and sensitive, providing comfort, being patient and more. It's why we take the time to say hello, to stop and listen, to be kind to one another. Why we give a little extra care and attention when it's needed most. 
This is our community. And in the face of every person, we see reflections of our own families – our sons and daughters, parents and grandparents.
Extraordinary Caring. Every Person. Every Time. That's exactly what we're working so hard to do.
OUR VISION

A Healthier Niagara
We are Niagara Health.
And we're helping build A Healthier Niagara by contributing to the overall health of our region in more ways than one:
In population health by helping people to stay healthy, get better, live well with disease and cope with end of life.
In the economic health of our communities as one of the largest employers in Niagara and in leading and promoting health innovations that will contribute to broader economic prosperity in the region.
In the health of our environment through our efforts in green, sustainable initiatives.
In being good partners, creating and maintaining healthy and productive partnerships.
OUR VALUES

Our values guide our decision making and behaviours.
Our CORE Niagara Health values are:
Compassion in Action


Our compassionate and respectful culture is one in which we quickly take action to meet the needs of those we serve and to make healthcare better. We treat each other well.

Driven by Optimism


We are hopeful and optimistic in tackling our challenges. In partnership we accomplish more. We are resilient through change and drive innovation.

Achieving Ambitious Results


We hold ourselves to the highest standards. We are accountable for high-performing, high-quality, sustainable and innovative healthcare. We are transparent about performance and commit to improve.
E

XTRAORDINARY