At Niagara Health,  we work closely with our academic partners in the community to create extraordinary experiences for our learners.
As a learning organization, Niagara Health has medical students in residence, which means better care for our patients by raising the standard across the whole interprofessional team. We also offer a variety of educational opportunities, including internships for employees looking to enhance their skills, and clinical externships for students during their schooling.
Residents
Niagara Health offers clinical teaching programs covering core and elective rotations, post graduate surgical rotations and core medicine.
Clinical placements are offered at three Niagara Health sites - Greater Niagara General Site in Niagara Falls, St. Catharines Site and Welland Site - through our partnership with McMaster University's Michael G. Degroote School of Medicine. McMaster's Niagara Regional Campus, located at Brock University in St. Catharines, is home to the Michael G. DeGroote School of Medicine Niagara Regional Campus.
This year marked the third year in a row when all 27 medical students at McMaster University's Niagara Regional Campus matched to a residency program in the first round. Niagara Health physicians and staff are integral in their education and training and we're proud to provide such extraordinary learning opportunities to these future physicians.
Partnerships
Niagara Health works closely with more than 90 academic partners including Brock University, McMaster University and Niagara College to provide learning and education opportunities in a number of healthcare-related fields.
For more information on student placement opportunities at Niagara Health, please visit our Student Resources page.
I-EQUIP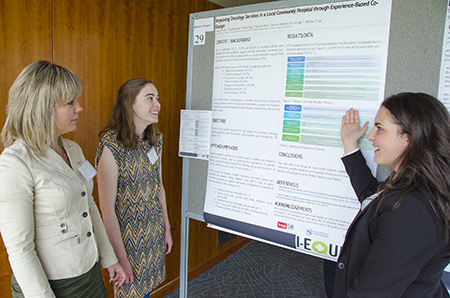 I-EQUIP is an extension of the classroom, providing an opportunity for students and front-line staff to work together on a variety of quality initiatives that improve patient care. Since 2012, Brock University and Niagara Health have partnered on initiatives across healthcare in Niagara, ranging from acute care to long term care and rehabilitation. I-EQUIP provides participants with an opportunity to design and implement a quality improvement project in an interprofessional team, developing skills in leadership, and influencing change in the healthcare setting.
I-EQUIP now boasts 61 projects involving 165 students, staff and physicians and continues to build a tremendous amount of interest and excitement across our hospital sites. Students bring positive energy and unique perspectives to improving quality patient care. These innovative quality improvement projects involve everything from research to prevent patient falls in hospital, to appropriate use of antibiotics, to reducing the risk of surgical site infections.