Our Nurse Practitioners, Registered Nurses, Registered Practical Nurses and Nurse Leaders are an essential part of our healthcare team and community. We have many inspirational nurses who are leaders internally and in the community, who volunteer, who educate the next generation of nurses and who conduct research to continually improve patient care and outcomes.
Our Nurses make extraordinary caring and innovation their daily mission.
---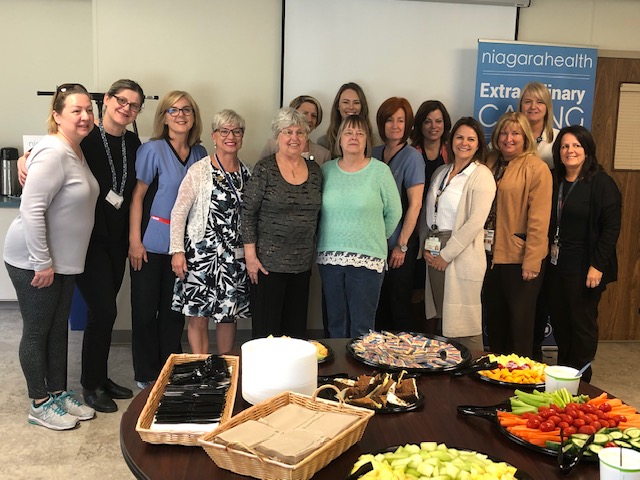 Recognizing Nursing Excellence at Niagara Health
Niagara Health celebrated excellence in nursing with its annual Nursing Excellence Awards on May 9, as part of National Nursing Week. All our nursing professionals help us achieve our vision of a healthier Niagara. Congratulations to all the nominees and award recipients. See who took home the prize this year.
---
We are currently recruiting nurses for all areas, including
Emergency, Critical Care, Mental Health and Addictions, Medical and Surgical.
Full-time and part-time positions are readily available in our Emergency Departments across all of our sites. 

---
Best Practice Spotlight Organization
We are honoured to be a Best Practice Spotlight Organization (BPSO) since 2002, which is a designation awarded by the Registered Nurses' Association of Ontario (RNAO) to organizations that implement and evaluate best practice guidelines (BPGs). The BPG program is a multi-year initiative that supports Ontario nurses by providing them with evidence-based, best practice guidelines for client care. RNAO BPGs are recognized provincially, nationally and internationally.
Niagara Health is committed to maintaining its BPSO designation by focusing on engaging nurses within the organization to adopt and sustain an evidence based culture. The implementation and evaluation of BPGs raises the professional profile of nursing at Niagara Health and contributes to the provision of safe, quality care for our patients and families.
Niagara Health Partnerships
Niagara Health has strong academic partnerships with Brock University, Niagara College, McMaster University, and Mohawk College. We have been able to engage in unique opportunities with our academic partners and I-Equip is one such example.
I-Equip stands for Interprofessional Education for Quality Improvement Program. The mission of the program is to create a culture of continuous quality improvement by strengthening partnerships between community, academic and healthcare organizations.
Nursing staff in the front line have played a key role in advancing the organization's quality agenda through their close work with the I-Equip students. Several quality improvement initiatives have been successfully developed, implemented and evaluated through I-Equip in the areas of falls, antibiotic stewardship, sepsis, surgical safety checklist, medication reconciliation, order sets, patient flow, patient engagement, stroke prevention, and reducing hysterectomy rates.
---
Nursing Roles & Information
Find out more about Nursing roles at Niagara Health.
Specialty Nursing & Diverse Roles Developing Our Nurses Balancing Work and Home Life