The services and programs volunteers provide are an invaluable support that complements the work of our staff. Our volunteers are a diverse group who range in age from 16 to 96 and come from all walks of life. Volunteers choose to share skills, abilities, experience and talent to benefit their communities. Through service, they learn new skills, make new friends, explore career options, network and remain actively engaged in the community during the golden years of retirement.
The types of volunteer Positions available at any one or more of Niagara Health sites include:
Patient and Family Care
Auxiliary Membership
Fundraising and Retail
Information and Customer Service
Commitment: A typical volunteer must commit to a consistent weekly shift of two to four hours, for a minimum one year.
---
Join Niagara Health as a volunteer and help make the ordinary EXTRAORDINARY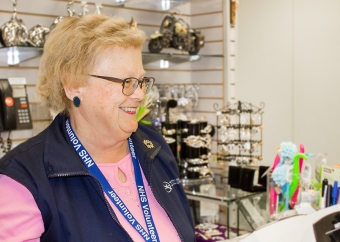 Jenni Gearing is a 65-year-old retiree from the Niagara Falls area who has spent the last 4 1/2 years volunteering at the Greater Niagara General Site. She is just one of 850 volunteers working in valuable roles, helping us provide extraordinary caring to our patients every day. She explains, in her own words, why giving back to her community by helping others is so important to her.
Niagara Health is currently recruiting volunteers to join our extraordinary team. For more information please call 905-378-4647, ext 44630 or email volunteer@niagarahealth.on.ca.