Are you in the right place?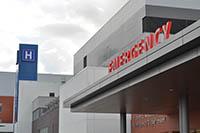 Understanding your medical options will help you get the right care as quickly as possible.
Emergency Departments treat the sickest patients first. Patients with life- or limb-threatening injuries or illnesses are treated first, followed by those with less urgent illnesses or medical conditions.
Did you know … our Emergency Departments and Urgent Care Centres are open 24/7? They had more than 190,000 visits over the past year. That's an average of 520 per day.
Know your options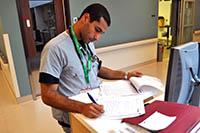 If your medical problem isn't urgent, you may want to consider alternatives other than the Emergency Department.
Minor illnesses and injuries can often be treated more quickly through:
Urgent Care Centres at our sites in Fort Erie and Port Colborne (single entry point links the ED and UC services in St. Catharines)
Community walk-in clinics
Your family doctor
Family Health Teams
Using any of these options for minor medical issues helps alleviate pressure on Emergency Departments and reduces wait times for everyone.
Not sure where to go?
For advice on the right place to receive the care you need, you can get help through these sources:
Telehealth Ontario at 1-866-797-0000
Ontario's Ministry of Health and Long-Term Care lists Physicians, Emergency Departments, Urgent Care Centres and Walk-in Clinics in your area www.ontario.ca/healthcareoptions or call 1-866-330-6206
Did you know … almost half of the patients at our EDs and UCCs are between the ages of 18 and 54, and almost one quarter are aged 65 and older.
When to go to an Emergency Department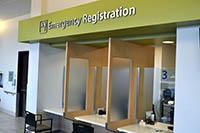 Our specialized ED teams treat patients who come in following a 9-1-1 call and arrive by ambulance. They also treat walk-in patients for emergencies.
Whether you arrive by ambulance or walk in to an emergency department, the sickest patients are treated first. Emergency Departments are for:
Broken bones
Dizziness
Serious illness
Serious injury
Mental health issues
Did you know … the top three reasons people visited our Emergency Departments over the past year were for abdominal and pelvic pain, throat and chest pains, and acute upper respiratory infections.
When to go to an Urgent Care Centre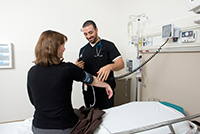 Urgent care is medical attention and treatment for people experiencing less serious illnesses and injuries.
Experienced Emergency Department doctors and nurses provide urgent care.
No appointments are necessary.
Did you know … wait times are typically shorter in our Urgent Care Centres than in our Emergency Departments.
Urgent Care services include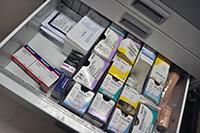 Minor abdominal pain (nausea, vomiting, flu)
Coughs, colds, fever
Ear, nose, throat and eye problems
Minor mental health issues
Cuts that may need stitches
Sprains, strains, sports injuries
Minor asthma attacks or allergic reactions
Did you know … not all ER visits are actually emergencies. Almost 20,000 visits last year were for minor conditions and concerns that could have been treated more quickly by a family doctor, at a walk-in clinic or elsewhere in the community.
Calling 9-1-1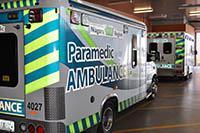 In all medical emergencies, call 9-1-1. When in doubt, call 9-1-1.
Niagara Emergency Medical Services (EMS) has the right system in place to ensure patients are safely cared for when they need emergency medical help.
Paramedics provide emergency pre-hospital medical care to stabilize a patient's condition at the scene and during transport to hospital.
How long does a visit to the Emergency Department take?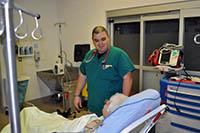 It is difficult to estimate how long your wait will be. Wait times can vary, and change quickly, due to a number of factors, including:
The severity of each patient's condition or illness
The number of other patients seeking medical attention
Whether you require diagnostic or lab tests, such as a CT scan or blood work
Traffic accidents with numerous casualties or patients arriving with life or limb-threatening conditions who need immediate medical attention
The time of day; mornings tend to be less busy than evenings. Weekends also tend to be busier when family doctors are not on duty.
It may appear quiet in the waiting room, but it may be very busy in the area where patients are being treated.
We are doing our best to care for you as quickly as possible. Your co-operation helps us provide more timely care. Please be respectful of our staff and other patients and visitors.
Did you know … almost 34,000 patients arrived at our EDs last year by ambulance.
When you arrive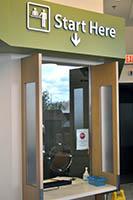 The first step for all patients arriving at an Emergency Department/Urgent Care is to be assessed by a Triage Nurse.
The Triage Nurse  has special training in Emergency Care and will evaluate your condition and prioritize your medical needs.
Patients are seen on a priority basis, not on a first-come first-served basis. This ensures the sickest patients get the care they need first — even though they may arrive at the ED after other patients.
Assessing your condition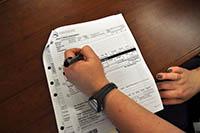 To evaluate your medical needs, the Triage Nurse will ask you for details about:
The circumstances that brought you to hospital
Your history of illness or injury
Whether you have allergies
Which medications you take
The nurse will also check your temperature, pulse or blood pressure during the triage process.
Did you know … The word 'triage' comes from the French word 'trier' and means to separate, sift or select.
Determining medical priority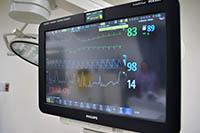 Triage nurses across Canada use the Canadian Triage and Acuity Scale (CTAS) to evaluate medical urgency. There are five triage levels, No. 1 being the most critical and No. 5 being non-urgent.
Level 1
Critical — obviously life threatening
Conditions requiring resuscitation, including cardiac arrest, shock and major trauma

Level 2
Emergent — potential threat to life or limb
Examples include asthma, altered mental state, chest pain suggestive of heart problems

Level 3
Urgent — a condition or serious problem requiring emergency intervention
Examples include abdominal pain, mild dehydration, kidney stone or shortness of breath

Level 4
Less Urgent — conditions which because of distress or potential for complications would benefit from intervention
Examples include vomiting and diarrhea with no dehydration, bladder infections, lacerations and earaches

Level 5
Non Urgent — conditions which are non-urgent and/or which might be part of a chronic problem
Examples include sore throat and insect bites
Did you know … The majority of our ED and Urgent Care patients last year (91,643) were Triaged as Level 3.
While you wait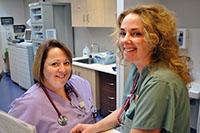 Tell the Triage Nurse immediately if your condition changes or you begin to feel worse.
Don't leave the ED without telling the Triage Nurse and having your condition re-evaluated.
Don't eat or drink anything without speaking to the Triage Nurse first — some tests cannot be performed if you have consumed food or beverages.
Wash your hands frequently with a cleansing solution provided in the waiting area and throughout the ED. Handwashing is key to prevent and control the spread of infection.
Have only one friend or family member wait with you, if possible. This will help reduce your own level of stress and prevent overcrowding.
If possible, leave young children at home in the care of an appropriate person.
Please be respectful and courteous to other patients and hospital staff.
The stages of your stay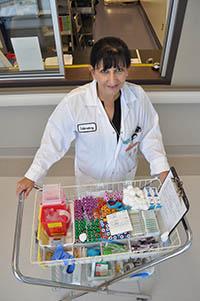 Most people arriving at an Emergency Department will follow these steps:
Arrival in Emergency Department
Triage
Registration
Consultation with our healthcare team
Diagnostic, lab tests as required
Diagnosis
Treatment begins
Discharge or admission
You may be requested to wait between some of these stages.
If you have respiratory symptoms, you may be asked to wear a mask. This is for the safety of others in the waiting room.
Did you know … Approximately one if every 8 patients who come to our EDs are admitted directly to the hospital.
What we're doing to make your experience better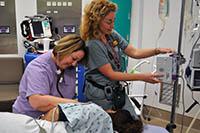 Providing a quality patient experience is a top priority for our Emergency Department physicians, staff and volunteers.
Here are some of the things we've done to reduce wait times and improve your hospital experience:
Added more coverage by nurse practitioners, who can treat patients with less urgent conditions
Improved collaboration with Niagara Emergency Medical Services to provide rapid attention to patients arriving by ambulance.
Created specialized "zones" to care for patients according to their needs. This includes caring for patients in chairs instead of stretchers.
Added additional volunteers to support our patients and families, including providing warm blankets, answering questions, helping with communication, and giving directions. Our volunteers wear red vests. Feel free to stop them when you see them.
Did you know … We are focusing on improving the patient experience, from the ED to discharge, and implementing creative solutions to ensure patients have safe and prompt attention to their healthcare needs.
What to bring when you come to the Emergency Department
When you come to the emergency room or for any hospital or medical visit, be sure to bring:
Ontario Health Card
Medical insurance information if you live outside Ontario
List of current medications
Any records you have regarding your health
Private health insurance cards
Personal Health Information Card
You may receive a bill for some hospital services
A valid Ontario Health Insurance Plan (OHIP) card covers most hospital services, but there are a few things that are not covered:
Ambulance charge of $45 (OHIP covers the remainder of the cost)
Medical equipment such as crutches, casts, knee immobilizers
Charges for a semi-private or private room if requested by the patient
Transportation home from the hospital
If you are not covered by OHIP or your OHIP card has expired, you will be charged for your hospital visit as well as a physician fee.
If you receive any of these services, please see the cashier to make payment before you leave the hospital.