Patients are cared for in a state-of-the-art facility by healthcare providers who are experts in maternity, newborn and women's healthcare.
Mothers and babies are cared for by our passionate and dedicated healthcare team in our bright and spacious, family-centred facility. We offer state-of-the-art birthing suites and quality, safe new mother and baby care that are a model for hospitals across the province.
In the new ultra-modern birthing rooms, healthy mothers deliver babies and they stay together in the same room. There are 17 private, Labour/Delivery/Recovery/Postpartum rooms in the unit.
The length of stay is usually 24 hours for an uncomplicated vaginal birth and 48 hours for the normal caesarean section delivery. Patients with medical problems may stay longer than this.
Our Women's and Babies' program was developed in consultation with world experts. By centralizing these services at the St. Catharines Site, we are making the best use of the latest technology and equipment, human resources and training, and in turn enhancing patient care, patient safety and quality of work life. It is a model that will attract new physicians looking for communities in which to set up practices and serves as a medical teaching unit for both doctors and nurses for years to come.
Features of the Women's and Babies' Unit
17 private labour/delivery/recovery/post partum rooms
Two operative delivery rooms for C-sections
20 mother/baby inpatient beds for those who deliver by C-section
24-hour rooming in facilities for parents
Infant security protection system
About the Children's Unit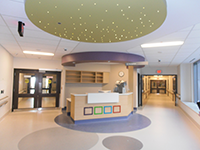 Our Children's Unit is located adjacent to the Women's and Babies' area, and provides a full range of pediatric services to children up to age 18.
The Children's Unit is specially designed for our younger patients and their families, with vibrant colours, a play room, artwork on the walls, special lighting, a family apartment suite, a family lounge and other unique features. There are 24 beds, including a room with three closed observation beds, two clinical decision unit beds for patients under assessment, and four rooms for child and adolescent mental health services.
An intensive care unit, also referred to as a special care nursery, provides services for newborns who require close observation, care and assessment. This unit features single room care, a parent lounge area and overnight rooms.
Emergency Department pediatric care continues to be provided at our Greater Niagara General in Niagara Falls and Welland sites.
Features of the Children's Unit include:
Special care nursery (an intensive care unit for newborns) with 18 bassinets
Single room care
Family apartment suite
Family lounge
Playroom
Overnight rooms