Odgers Berndtson has been engaged to conduct the search for the next President of Niagara Health.
As part of the search process, internal and external partners and stakeholders of Niagara Health are invited to complete a consultation questionnaire, focusing on the issues and opportunities for Niagara Health that will help to inform the selection of the next president. 
To participate in the consultation questionnaire, please click on the link below. This is a confidential process and all comments and feedback will be kept anonymous. The results will be shared with the Odgers recruitment team (Penny Mirams-Partner, Hayley Becker-Partner, Colette Cassidy-Project Coordinator) without any attribution or connection to those who provided the feedback.
---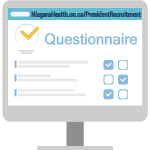 Read more about the progress on our team's journey to create a healthier Niagara. The next President will be a critical enabler to achieving our purpose of extraordinary caring to every person, every time.
Questionnaire closed.
Thank you to everyone who participated in the online questionnaire. Your input is key in ensuring that we recruit the best possible individual to lead Niagara Health.