At Niagara Health, extraordinary caring is what our patients, their families, our volunteers, our teams, and our community need and deserve. That is why extraordinary experiences will be at the forefront as we work in partnership to redesign how healthcare is delivered across our region to build a healthier Niagara.
---
As always, our planning is focused on ensuring the highest safety and quality standards for all residents of Niagara. Any planning must take into account future healthcare needs and the ever-changing ways healthcare is delivered due to new medical procedures and technologies.
Niagara Health's role will be to deliver acute care (for patients needing intensive levels of care) and complex care (for patients with ongoing medical needs) with excellence in quality, safety and expertise to a diverse population across urban and rural communities and contribute to the broader care system.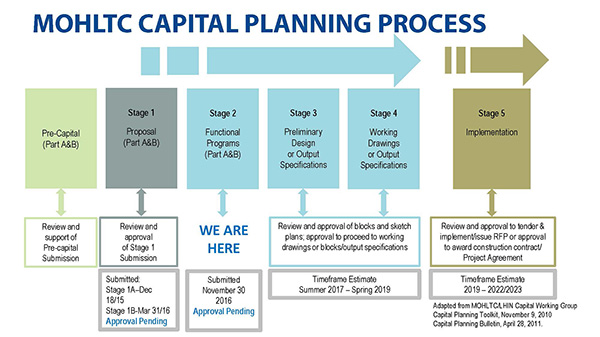 We know we cannot build a healthier Niagara alone.
Niagara Health would like to thank the thousands of people who offered feedback during the initial redevelopment planning related to the Niagara Falls South Site hospital and the Welland Ambulatory & Urgent Care Site.
Community leaders, residents, patients, healthcare workers, physicians, and municipal partners were engaged in the planning so far, and we will continue to seek input as we move forward. On Wednesday, January 25, 2017 the LHIN endorsed the first submission – Stage 1A – which is a first look at the programs and services that would be offered in Niagara Falls and Welland.
> Read the full thank-you message to the community here.
By teaming up with patients, healthcare providers and other important community partners and thinking about delivering care in new ways, there is great potential to improve access, outcomes and experiences for our patients and families.
We are committed to always putting the needs of patients at the centre of our planning, consistent with the mandate of the Hamilton Niagara Haldimand Brant Local Health Integration Network (LHIN) as well as the provincial Ministry of Health and Long-Term Care's Patients First strategy.