1. What types of services would be provided in an Ambulatory Care & Urgent Care Centre?
The Ambulatory Care & Urgent Care Centre in Welland will provide a wide variety of services to patients who require healthcare but do not require an overnight hospital stay.
It is estimated that the Welland centre will see 70,000 visits in its first year across all of its departments. Outpatient services will include:
surgical clinics, including pre-operative and post-operative appointments with surgeons
medical clinics with visiting specialists; these clinics will evolve to address community health needs
mental health and addictions services for adults, children and adolescents
Hepatitis C satellite clinic
dialysis services
diagnostic testing, including X-ray, ultrasound, bone density testing, CT scans and cardio diagnostics
Ontario Breast Screening Program services
Urgent care services, with ambulance transport*
*As is the practice at our Douglas Memorial and Port Colborne Urgent Care Centres, Niagara Emergency Medical Services will transport non-emergency patients by ambulance to Welland. Acutely ill patients would continue to be transported to the nearest Emergency Department.
2. How was the location of the new hospital determined?
A number of evaluation criteria were examined to determine the best location for a new hospital in Niagara. The location of the new Niagara Falls South Site at Lyons Creek Road was determined based on population needs and projections of population growth to ensure the closest possible access for the most people. The location was also determined based on a number of quality and affordability factors, including the ability to retain and recruit the best physicians and staff, maintain efficient operating costs, and build a structure of the same size on the same property in 30+ years.
In 2012, agreement on the location of the new Niagara Falls South Site was reached among the Mayors and Regional Chair of the day to be in the QEW and Lyons Creek area. The land in question, at the northwest corner of Lyons Creek and Montrose roads, is 12 hectares in size and was donated by a family from Toronto. The location was subsequently approved by the Minister of Health and Long-Term Care
3. How will this new model of care benefit patients and families?
The goal is to provide patients and families well co-ordinated access to a full range of healthcare services across our region and beyond, when needed. Niagara Health's role will be to provide acute care and complex care services. We will work closely with all of our partners, which could include family physicians providing primary care in community settings and tertiary hospitals in our LHIN that offer more specialized health services, such as cardiac surgery.
Travel will be required to access healthcare services, as is the case today. We will also look for opportunities for more services to be available in the community, providing access to care closer to home, or even at home using technology. 
Among the many benefits, the model we are planning will:
anticipate the need for growth in inpatient beds - projecting 100 new beds in 2023 (located in Niagara Falls and St. Catharines) and an additional 140 new inpatient beds in 2033 (majority located in Niagara Falls).
take advantage of the latest medical and technological advances in healthcare
enhance our retention and recruitment efforts by attracting the best physicians and healthcare professionals to Niagara Health
enhance our infection prevention and control practices
make better use of our limited resources by reducing duplication
embed a senior-friendly focus in all aspects of the patient experience
integrate hospital and community care services for a seamless experience
Overall, organizing this new model around our patients' and families' needs will lead to better access, outcomes and experiences.
The
Integrated Comprehensive Care (ICC) program
is a great example of how we are integrating hospital and community care services for patients. This new program provides patients who have been discharged from hospital but are at risk of being readmitted with enhanced access to services and medical expertise in the community so they can manage their conditions at home. In this case, patients with chronic obstructive pulmonary disease and congestive heart failure are well supported – right in their homes – upon discharge. We are providing this service in partnership with St. Joseph's Healthcare System.
Feedback from patients about this new program has been overwhelmingly positive.
4. How would new Centres of Excellence at the Niagara Falls South Site at Lyons Creek Road benefit patient care?
Based on our research of patients' needs, our plans call for Centres of Excellence at the Niagara Falls South Site at Lyons Creek Road in stroke, complex care, eye care, seniors' wellness and academic education. Patient care is enhanced due to a number of opportunities that Centres of Excellence bring, including:
5. How long will it take for residents across Niagara to drive to the new Niagara Falls South Site at Lyons Creek Road, and to the new Ambulatory Care & Urgent Care Centre, Welland?
People will travel for certain services like they do today. For example, a Centre of Excellence for Complex Care will be located at the Niagara Falls South Lyons Creek Site, while Cardiac services will be among the Centres of Excellence provided in St. Catharines. There will be new travel routes depending on the care needed, and in some cases the distances for residents will be closer.
The average distance and time to travel to the Niagara Falls South Site at Lyons Creek Road from our existing sites, are as follows:
From St. Catharines Site: 27.5 KM, 23 MINS
From Greater Niagara General Site: 9.2 KM, 10 MINS
From Douglas Memorial Site: 13.6 KM, 19 MINS
From Port Colborne Site: 23.3 KM, 24 MINS
From Welland Site: 13.8 KM, 22 MINS
The average distance and time to travel to the Ambulatory Care and Urgent Care Centre, Welland, from our existing sites are as follows:
From St. Catharines Site: 30.3 KM, 26 MINS
From Greater Niagara General Site: 26.2 KM, 28 MINS
From Port Colborne Site: 12.3 KM, 17 MINS
From Douglas Memorial Site: 32.7 KM, 29 MINS
As well, discussions are underway with the Inter-municipal Transit Working Group of Mayors to launch a region-wide transit system in the area in time for the GO Train expansion into Niagara Falls. For the latest updates on this project, go
here
.
6. What about having three hospital sites in Niagara?
Early in our planning, we considered a model with three hospital sites, however this model was not supported for a number of important reasons. These include:
All evidence points to consolidation of expertise as a key determinant of quality healthcare
Operating and capital costs would be higher and unsustainable, largely due to unnecessary duplication of our resources, including staff, equipment and infrastructure.
Ongoing challenges with patient transfers and patient flow across three hospital sites.
Physician specialists and other healthcare professionals tell us they want to work in:environments with high volumes of patient cases so they can develop and maintain advanced skills; larger teams because of the support and expertise immediately available to them, along with the opportunity for a greater work-life balance.
The model we are planning is consistent with the direction of the provincial Ministry of Health and Long-Term Care and our Local Health Integration Network, which emphasize ambulatory and urgent care settings, and other opportunities to enhance access to safe, quality care in the community and outside of the hospital setting.
7. How will members of the public access emergency and urgent care services?
Emergency and urgent care services will be provided by Niagara Health, as follows:
Emergency Department services in St. Catharines and Niagara Falls
Urgent care services (for non-critical needs) in Welland, St. Catharines and Niagara Falls
We are also working with our partners in the community to create new access points for primary care services that will help residents manage chronic disease to improve their quality of life and reduce unnecessary visits to Emergency Departments and/or Urgent Care Centres.
Just like it is today, those patients with life- or limb-threatening injuries or illness should always call 911. Paramedics with Niagara Emergency Medical Services(NEMS) have specialized skills that enable them to provide advanced care from the moment a call is placed for assistance. Paramedics will continue to transport patients to the most appropriate destination based on their medical needs, even if it's not the closest hospital.
For those with minor medical issues, there are many options, including urgent care centres, family doctors' offices, community walk-in clinics and Telehealth Ontario (Phone: 1-866-797-0007; TTY: 1-866-797-0007).
Emergency and urgent care services are often used by patients and families who do not need such an intensive level of care and could access the care they need in the community.
8. How does the new St. Catharines Site improve patient care?
The state-of-the-art St. Catharines Site, which opened in March 2013, has been the catalyst for a number of significant improvements to patient care. Among them:
The Walker Family Cancer Centre has brought care closer to home for thousands of Niagara residents since it opened in 2013.
Niagara residents have access to cardiac catheterization procedures and Percutaneous Coronary Intervention (PCI) stent insertions without leaving the region since our new Heart Investigation Unit (HIU) opened in 2013.
Specialized mental health services not previously available in Niagara.
Specialized women's, babies' and children's healthcare provided in a bright and spacious family-centred facility with state-of-the-art birthing suites, a special care nursery for newborns and a family apartment suite available for overnight stays.  
Our recruitment efforts are attracting top physicians and care providers who want to work in state-of-the-art facilities using state-of-the-art equipment.
The building is one of the most advanced hospital designs in Canada when it comes to reducing the spread the infection.
Consolidation of the services provided in St. Catharines supports modern practices, greater teamwork and learning among providers, which leads to better outcomes.
Opportunities to incorporate leading medical and technological advances into our practices and develop greater areas of medical expertise in specialty areas.
Greater educational focus due to enhanced academic partnerships with McMaster University's Michael G. DeGroote School of Medicine, Brock University and Niagara College.
In addition, due to the size of the Intensive Care Unit, we were able to create a new Critical Care Response Team, which represents a major innovation in patient safety. A dedicated critical care nurse, physician, and other healthcare providers as required take their critical care expertise outside of the ICU and to the patient's bedside (or wherever it is needed) 24/7. Early identification of a failing patient allows the team to either stabilize the patient on the ward or facilitate his/her early admission to the ICU. We are currently in the process of planning to expand this model to our Greater Niagara General and Welland sites.
9. Why is infection prevention and control so important?
Fighting superbugs is a reality for all hospitals and will always present a challenge. Our new buildings will also be designed to support a healing environment that is equipped to protect patients, staff and visitors from infections, ensuring patients receive safe, quality care. Taking other services out of the hospital and into the community will also reduce the risk of infection.
10. What about the challenges with transportation in the region?
We recognize that transportation can present challenges for accessing health services, and we will contribute to the discussions underway regarding transportation improvements in our region.  This is another reason why planning for access to services in community settings, and even at home with the use of technology, makes sense. For more information and updates on plans for the Inter-municipal transportation project, visit Niagara Region's website
here
.
11. Why is the planning focused on seniors?
Over the next 10 years, the number of seniors in Niagara is expected to increase by 35 per cent. This means that there will be an 18 per cent increase in the demand for seniors' care that require a hospital stay over the next 10 years, and a 45 percent over the next 20 years. Our planning considers how we will increase access to better and more coordinated care for this population while ensuring the healthcare system is sustainable for generations to come.

As part of our planning, a patient-centred and senior-friendly focus will be embedded in all aspects of the patient experience. This planning is consistent with the Ontario Senior Friendly Hospital Strategy, which provides a significant focus on the needs of seniors.
12. What is the process for future planning for the new hospital and ambulatory care & urgent care centre?
A capital development project of this large scale is a multi-staged initiative. Our planning is consistent with the Ministry of Health and Long-Term Care capital development process. The five stages are:
Stage 1 (A&B):
Working with community partners, staff and residents to develop a Clinical Vision for our future. Detailed analysis of what services will be located at each site and in a community setting. (Submitted in March 2016).
Stage 2:
A detailed description of programs and services to be delivered by Niagara Health, and determining staffing, funding, equipment needs, and space required. (Submitted in November 2016).
Stage 3:
Working with a design company to develop building diagrams. (Timing to be determined)
Stage 4:
Niagara Health, in partnership with the Ministry of Health and Long-term Care and Infrastructure Ontario, will ask companies to submit proposals to design and construct the new buildings. (Timing to be determined)
Stage 5:
Construction begins. (Timing to be determined)
13.What does the current planning involve?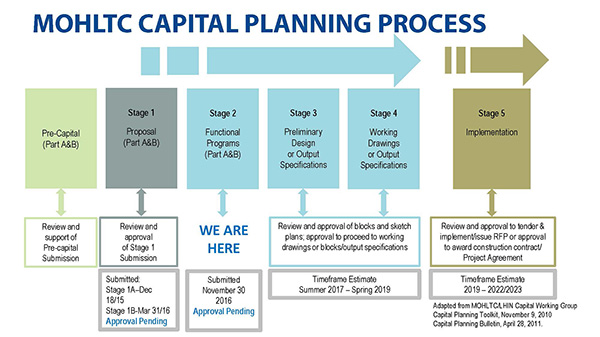 Stage 1A & B, which were submitted in 2015 and 2016, determined how to best use our resources and services to most effectively respond to the healthcare needs of Niagara residents. Stage 2, which was also submitted to the Ministry in 2016, included identifying program requirements, equipment and space needs (i.e. to determine what size departments need to be and what programs should be beside one another to function best), and a more detailed cost estimate of the proposed services to be located at the Niagara Falls South Site and the Ambulatory Care & Urgent Care Centre, Welland. This important work was completed by 40 user groups comprised of approximately 140 Niagara Health staff and physician members representing clinical and support services from across the organization.
14. What are the timelines?
The timeline to complete all five stages of the Capital Planning Process is approximately eight to10 years. Pending Ministry approval, construction of the buildings will take several years, and our plans call for opening the new buildings in 2023.
In the meantime, our hospital sites will continue to provide services as they do today across Niagara.
15. What changes in services can we expect at the existing sites between now and the proposed 2023 opening of the new Niagara Falls South Site at Lyons Creek Road?
There are no changes anticipated to services currently provided at our sites related to the redevelopment planning.
As a hospital, it is important that we regularly review our programs and services from a quality and safety perspective and make changes as identified. There are no changes planned at this time, however we will need to appropriately respond as needed to ensure our patients are receiving the best and safest care possible.
16. How will the community be involved in the planning?
To date, we have received feedback from thousands of residents, staff, physicians, community healthcare providers, and many others.
We know we cannot build a healthier Niagara alone and that the hospital is part of a broader healthcare system. We want our care to uphold the highest safety and quality standards, whether it is for emergencies, surgeries, or diagnosis. We also want to offer patients and families an extraordinary experience.
As we move forward with our planning, we are fully committed to working with staff, residents and all of our partners to build the best healthcare system for our region. There are a number of opportunities already underway as a result of feedback we have received. We formed the Clinical Planning Advisory Council, whose members include representatives from the hospital, our healthcare partners and from each of our communities in south Niagara. TheCommunity Advisory Committee, which is made up of 10 people from across the region, also provide valuable input and feedback about decisions and developments related to Niagara Health.   
Feedback is always welcomed. Comments, questions or concerns can be emailed to healthierniagara@niagarahealth.on.ca. Be sure to include your contact information and the city you live in to receive a faster response.