Another innovative tool used by our physicians makes it faster and more secure for them to communicate with one another on their smartphones, ultimately resulting in more timely care for patients.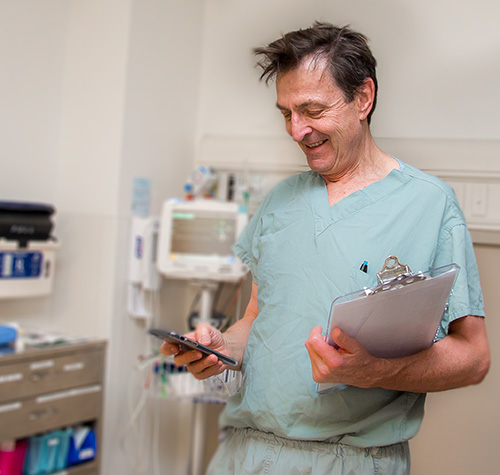 Working with IBM and Vocera Communications, Inc., Niagara Health designed and deployed this innovative smartphone app that allows Niagara Health physicians to instant message each other through their personal smartphones.
The application lets the user know when a message has been sent, received and read. Unlike a paging system, the sender knows their message has reached the correct person in one easy step. This tool also has built-in contact lists that allow users, for example, to reach the on-call physician without having to know who is on call.
Most importantly, the information shared is secure as it is stored on Niagara Health servers. Doctors can now send patient information like diagnoses and X-rays to each other through their own smartphones without risking a breach in patient privacy.
Niagara Health's Information and Communications Technology department worked with our own doctors to customize the app to specifically meet their communication needs.
Other hospitals in Ontario are now looking to Niagara Health to see how they can implement similar leading-edge communication technology.