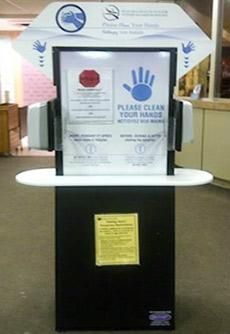 Niagara, Ontario: Niagara Health System (NHS) is taking its infection prevention and control strategies up a notch to encourage everyone to clean their hands more often when they are at the hospital.
Visitors, doctors and staff at the Greater Niagara General Site now hear a motion-activated voice message asking them to clean their hands when they enter the main entrance and other areas of the building.
"Good hand hygiene takes a conscious effort, and these new strategies will help us to keep the importance of hand washing top of mind of everyone," says Frank Demizio, Vice President Patient Services. "As a result of improved hand hygiene, we have seen a significant drop in outbreaks by 60 per cent over the last two years."
"Good hand hygiene is an important practice for everyone, including our patients," adds Frank. "It's one of the best ways to prevent the spread of many infections. We plan to expand this initiative to all of our sites."
In addition, new kiosk displays with alcohol-hand dispensers have been set up across all sites. Messages reinforcing the importance of hand washing at the hospital are placed in poster holders located on the displays.
"What's unique about these kiosk displays is that they have ledges for people to put their purses, bags and other items to free up their hands so they can clean them," Frank says. "It can be difficult for people to clean their hands, particularly during the winter, when they are carrying gloves and other items with no convenient place to put them."