St. Catharines General property on the market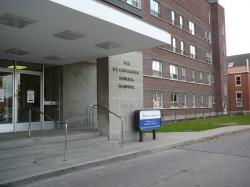 With all required approvals in place, including rezoning for medium density residential development and an official plan amendment by the City of St. Catharines, the property where the St. Catharines General Site is located is officially on the market.
"Pre-zoning the site before being put up for sale is an innovative process and was an important step prior to the Niagara Health System formally seeking a buyer for the property," says NHS Chief Planning and Development Officer Gloria Kain. "We felt this was an important process to ensure the successful developer complies with the recommendations for use that our extensive community consultation process has set forth.
The property contains four parcels of land, totalling 12 acres, including:
St. Catharines General Site, fronting Queenston Street (10.4 acres)
Large parking lot on the east side of Prince Street (1.2 acres)
Current residential property fronting on the south side of Valleyview Road (0.3 acres)
Current residential property fronting on the southwest corner of Eastchester Avenue and Valleyview Road (0.1 acres)
Developers interested in purchasing and developing the property must submit an Expression of Interest demonstrating such items as proposed land use, value of the properties including demolition of the buildings (if they are to be removed), experience and financial capacity, proposed schedule and financial terms and conditions. Responses are due by 1 p.m. on April 11, 2011.
"It is also important for interested parties to identify specific health or wellness uses which would serve the community as well as their commitment to continued community consultation," says Gloria.
Once an agreeable purchaser is identified, the hospital anticipates the negotiation process to be completed, along with agreement of purchase and sale, by the end of the year.
When the new health complex opens its doors in west St. Catharines in the spring of 2013, the current St. Catharines General and Ontario Street sites will no longer serve as sites of the NHS. The Ontario Street Site was sold in 2006 to Walker Industries and Mountainview Homes for residential development. The sale of both properties helps to fund the local share of the new hospital.