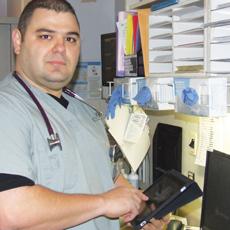 Dr. Rafi Setrak, an ER physician at the St. Catharines General Site, uses his iPad to access Clinical Connect and call up his patients' medical records while standing at their bedside.

Doctors at Niagara Health System (NHS) and Hotel Dieu Shaver Health and Rehabilitation Centre are participating in a new initiative that enhances care through the sharing of patient medical information with hospitals in Hamilton and beyond on an electronic network.
Clinical Connect gives doctors and other healthcare providers secure, real time, anytime and anywhere access to their patients' electronically stored medical records via the internet. The information includes lab results, transcribed reports, records of visits, medications and more. Hamilton Health Sciences, St. Joseph's Healthcare Hamilton and Joseph Brant Memorial Hospital in Burlington are among the hospitals using the network from the Hamilton Niagara Haldimand Brant Local Health Integration Network (LHIN). Niagara doctors can also access patient health records from several hospitals in the neighbouring Waterloo Wellington LHIN.
In partnering on the project, NHS and Hotel Dieu Shaver knew that with more patient information available electronically, patient care and patient safety in Niagara would be improved, and costs would be reduced.
Dr. Mark Jany, a Respirologist and Internist at NHS's St. Catharines General Site, says Clinical Connect benefits patient care directly by allowing quicker decision making by physicians. Clinical Connect provides doctors with immediate access to a patient's medical history, eliminating the frequent need to repeat medical tests for patients who are cared for outside the region and then come to hospital in Niagara. "Having immediate access to a patient's medical records through Clinical Connect saves physicians a lot of time, allowing them to diagnose and treat patients more quickly."
Dr. Jack Luce, Chief of Staff for Hotel Dieu Shaver, agrees the system has numerous benefits for patients, doctors and hospital staff. "It certainly makes the process of transferring patients more seamless in terms of having quick and reliable access to the patient's health information. When Niagara patients are repatriated to us from Hamilton for their rehab, we can quickly access their records."
NHS ER physician Dr. Rafi Setrak accesses Clinical Connect directly from his iPad, which he carries with him in the ER. "The combination of a highly mobile device like the iPad, and comprehensive patient data spanning many hospitals through Clinical Connect, brings effective, fast, secure and safe decision-making ability right to the bedside at any time, day or night. Standing to benefit most are patients presenting with hyper-acute conditions, especially at off hours of the day, when collecting meaningful data is a challenge."