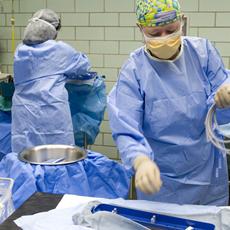 Quality improvement is an ongoing priority for the Niagara Health System to help continually find new and better ways of doing things to enhance care for patients, increase satisfaction and achieve even better clinical outcomes. To address this important goal and to meet the new legislative requirements that apply to all hospitals in Ontario, Niagara Health has developed its first annual Quality Improvement Plan (QIP) under the new Excellent Care for All Act (ECFAA).
Click here to view Niagara Health's 2011-2012 QIP
BACKGROUND
New legislation called The Excellent Care for All Act (ECFAA) came into effect in Ontario in June of 2010 requiring all hospitals to create and make public annual QIPs. The legislation sets out a number of other requirements for hospitals that include establishing quality committees, implementing patient and care provider satisfaction surveys, developing a declaration of values following public consultation, and establishing a patient relations process to address and improve the patient experience.
Every hospital in Ontario is now required to set targets for improving the Safety, Effectiveness, Access and Patient Centredness of the care it provides as part of the QIP. Indicators and targets for improvement as well as plans as to how these targets will be achieved along with reports on performance must be provided.
Compensation of the hospital's senior leadership team is also linked to achievement of some performance targets in the QIP. To monitor this, Niagara Health's Board of Trustees developed and approved a performance-based compensation plan that is publicly available on the NHS website under Quality & Performance section.
Niagara Health has a long history of quality improvement performance. While quality improvement is not new for NHS, the introduction of the QIP marks a new era for Ontario hospitals bringing more accountability, transparency and standardization to the sector and the opportunity to raise the bar across the province when it comes to performance improvement.
NIAGARA HEALTH SYSTEM's 2011-2012 QUALITY IMPROVEMENT PLAN
NHS's QIP consists of two parts – an indicator report and the following narrative section.
Over the course of the next year Niagara Health System will focus on improving the overall quality of care and services delivered at all seven hospital sites. By March 31, 2012, Niagara Health System will achieve the following aims and measures.
SAFETY
Our aim is to improve the overall safety of care we deliver to our patients. Our success in achieving this aim will result in:
• A reduction in the number of patient falls from 12.14 % to 10.94 %.
EFFECTIVENESS
Our aim is to provide patient care reflective of current evidence-based practice and the appropriate use of available resources. Our success in achieving this aim will result in:
• A reduction in our Hospitalized Standardized Mortality Ratio (HSMR) from 100 to 95.
• Continued financial improvement which will see our Total Margin being maintained at -0.80%.
ACCESS
Our aim is to ensure patients in the communities we serve have timely access to the appropriate care and services required to maintain their optimal health status. Our success in achieving this aim will result in:
• A reduction in the amount of time patients who are admitted to hospital wait in the Emergency Department before moving to their inpatient bed from 45.3 hours to less than 39.9 hours.
PATIENT-CENTRED
Our aim is to provide care and services to all patients and families that reflect our respect for individual choices and patients as partners in their care. Our success in achieving this aim will result in:
• 75.3% of our inpatients stating that they received all services needed.
• 56.2% of our ED patients stating that they received all services needed.
QUOTES
"Our hospital's goal is to deliver quality care to the people of Niagara and to continually seek to improve the way we do that. Through ongoing monitoring of our new Quality Improvement Plan, we will be able to clearly see our targeted areas for improvement and measure our progress," says Dr. Sue Matthews, Interim President and Chief Executive Officer.