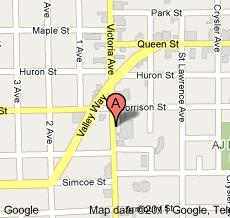 Leading local oncologist Dr. Janice Giesbrecht is launching the Niagara Health System's Health Education Series this year with a special presentation on cancer. Dr. Giesbrecht is the NHS Medical Director of Oncology and Deputy Regional Vice President with Cancer Care Ontario.
Niagara's cancer program has increased 30% in the last five years and more services are being planned. "Cancer incidence rates here and around the world are increasing, but on the positive side, mortality rates are dropping in Canada," says Dr. Giesbrecht. "We need our residents to be aware of screening programs so cancer can be caught in the early stages."
Today, someone in Ontario is diagnosed with cancer every eight minutes. In 10 years it will be every six minutes if current trends persist. Learn how to reduce your risk for cancer and the services available for early detection and treatment at …
Overview of Cancer - Risk factors, trends, prevention, screening, treatment, and the future of cancer care in Niagara.
Displays and handouts courtesy of Canadian Cancer Society. Free admission and parking. Sponsored by the Niagara Health System and Niagara Falls Public Library.