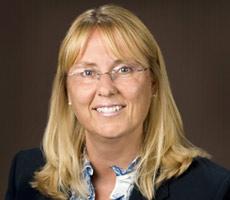 The Niagara Health System is pleased to announce Sue Matthews, Interim President and CEO as the recipient of the 2011 Margret Comack Award of Excellence in Nursing Leadership. Sue was presented the award last week at the Ontario Hospital Association's annual conference, HealthAchieve, in Toronto. The award acknowledges the outstanding leadership of an individual nurse in a senior leadership position.
Recipients of the Margret Comack Award of Excellence are chosen for exemplifying outstanding leadership skills and having produced innovative and effective results for staff, patients and the organization, for demonstrating a commitment and contribution to the nursing profession through leadership, and contributing as a leader to effect broad change in health care services integration.
Sue joined the NHS in 2009 as Vice President, Patient Services and Chief Nursing Executive, and in January of this year, she was appointed as Interim President and CEO. Prior to joining the NHS, Sue held positions as Ontario Vice President, Operations and Chief of Practice, as well as National Executive Director of Disease management for the Victorian Order of Nurses (VON), and as Provincial Chief Nursing Officer with the Ontario Ministry of Health and Long-Term Care. She advised the Premier, Minister and the government on nursing and health system issues, provided strategic leadership and advice on health system transformation and fostered partnerships and collaboration between government, nursing and other stakeholders.
Sue holds a Doctor of Public Health degree along with a Master's in Health Science Nursing degree from Charles Sturt University. In addition, Sue has a Bachelor Liberal Arts, Health Studies degree from York University and a Diploma in Nursing from Ryerson Polytechnic University. She is a Clinical Associate Professor at McMaster University and an Assistant Professor at the University of Toronto.
A profile of Sue will be featured in the Canadian Journal of Nursing Leadership to provide exemplars of nurse leaders who make a difference through their professional contribution to health care in hospitals.