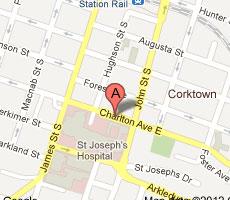 St. Joseph's Healthcare Hamilton and the Niagara Health System are holding a Celebration of Hope and New Beginnings for patients and families of the Lung Diagnostic Assessment Program (LDAP) who have had lung resection surgery.
LDAP is a partnership between the NHS, St. Joseph's Healthcare Hamilton, Juravinski Cancer Centre, and Cancer Care Ontario. In Niagara, the assessment clinic is located at the Outpatient Oncology Clinic at St. Catharines General Site and is integrated with oncology services provided by the NHS.
Niagara patients with a suspicion of lung cancer are being diagnosed and treated much faster since this new program, the largest and busiest of its kind in the province, began in September 2010. The wait time for a diagnosis has dropped dramatically – from an average of 95 days to an average of 27 days. More than half of the patient referrals for the LDAP are from Niagara.
The Celebration of Hope and New Beginnings event is scheduled to take place:
| | |
| --- | --- |
| When: | Friday, January 6, 2012, 2 p.m. to 4 p.m. |
| Where: | 2ND Floor, Juravinski Innovation Tower, Charlton Campus, St. Joseph's Healthcare Hamilton (map) |
Highlights of the event will include:
A keynote address by a NHS cancer patient
Presentations by:

Dr. Yaron Shargall, Head of Thoracic Surgery, St. Joseph's Healthcare Hamilton
Dr. Bill Evans, President, Juravinski Cancer Centre and Regional Vice      President, Cancer Care Ontario
Dr. Janice Giesbrecht, Medical Director, NHS Oncology Program
Members of the media are invited to attend the event. Cancer patients who received their treatment in Niagara, as well as care providers with the NHS Oncology Program, will be part of the celebration. Interviews can also be arranged at a separate time.