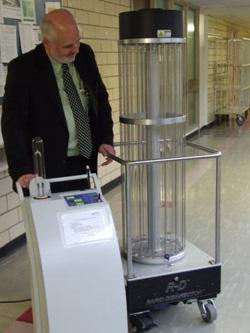 The Niagara Health System (NHS) is introducing a new ultraviolet light disinfectant system to enhance its infection prevention and control cleaning of surfaces in patient rooms.
"Our team is committed to going above and beyond our industry's infection prevention and control standards, and this is an additional measure to ensure we are doing everything possible to fight superbugs in the hospital," says Vice President Kim Stephens-Woods. "UV light is a proven disinfectant in other applications, and we expect this technology will greatly reduce the presence of bacteria on surfaces in patient rooms. This in turn would reduce the potential of transmission of infection."
The NHS will be the first in Canada to use UV light in this type of application. It has been used in hospitals in the United States and is supported by infection prevention and control experts as a valuable cleaning practice for hospitals. UV light has been successfully used as a disinfectant in other applications, including water treatment and food processing.
The process to clean a patient room will continue consistent with the protocols in place at NHS. The UV light disinfection is an additional step in our cleaning. The UV equipment is placed in a cleaned and emptied room, UV data sensors are placed in the room and a safety sensor is placed on the door. A computer records the UV light in the room and the sensors emit the appropriate amount of UV light to disinfect the surfaces.
Greater Niagara General Site will be the pilot site for this three-month trial project, which began this week.
All other infection prevention and control protocols will remain in place across all of our sites. Examples of these practices include:
A new trigger system enables us to quickly respond to suspected C. difficile cases with enhanced cleaning and patient isolation.
Cleaning practices related to C. difficile and other hospital-acquired infections have been enhanced. This includes twice daily cleaning of all patient rooms, deep cleaning of specific units, full facility cleans, and enhanced housekeeping audits and checklists.
We have extended the use of sporicidal agents across the hospital, vs. use solely in patient bathrooms.
Terminal clean – more intensive cleaning – takes place across facilities; units with recurrence are terminally cleaned again.
Regular hand hygiene audits of staff and physicians will continue to ensure 100 per cent compliance with best practice. Staff and physicians must clean their hands before and after every contact with a patient and the patient environment, as well as before an aseptic procedure and after body fluid exposure risk.
There will be ongoing screening of ER patients, inpatients and outpatients, including those coming to clinics and for tests.
We have moved to genetic testing (PCR) for C. difficile; more accurate, detecting more cases.
We have stopped the practice of cohorting patients and have created additional private capacity for patients requiring isolation.
There are limits on movement of equipment between units.
We will continue to cover all equipment that has been cleaned with plastic covering. This will ensure staff use only equipment that has been thoroughly cleaned according to infection prevention and control standards.
Food and drink is restricted in patient rooms unless it is for the patients.
Antibiotic stewardship enhancements are ongoing across our sites.
Enhanced transparency and clear communication approach continues.
Clear signage, hand hygiene stations, and overhead voice message concerning outbreaks and the need for hand hygiene.
Media contact: Rebecca Boucher, Communications Specialist, 905-378-4647, ext. 43879; rebecca.boucher@niagarahealth.on.ca
Infection Disease Consultant: Dr. Michael Gardam MSc, MD, CM, MSc, FRCPC, is the Director of Infection Prevention and Control for the University Health Network in Toronto and a recognized expert in Canada for infection prevention and control, 416-340-3758; michael.gardam@uhn.on.ca