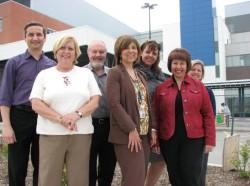 Building a hospital is no easy task. Ensuring the facility is fully equipped to diagnose and treat patients adds many layers of complexity. In the diagnostic imaging department alone, NHS bought 36 new pieces of equipment.
 Click here to read the rest of this story in the June edition of Hospital News (page 22), featuring the buying process for Diagnostic Imaging equipment in our new hospital. 
Selecting equipment for our new hospital involved hundreds of hours of engagement and planning with participants across all 38 departments, along with several external partners, to ensure we have not only as well-designed and built facility, but also the best equipment to meet patients' needs
- Maria Vuono, NHS Project Team
---
Countdown to enhancing the oncology patient experience

In preparation for providing care at the Walker Family Cancer Centre, and to support our integrated partnership with Hamilton Health Sciences' Juravinski Cancer Centre, we are working together to create the foundation for a high quality, more tightly integrated cancer care system in our region.
We're counting down the days until June 18 when we will launch our new ambulatory oncology electronic clinical record! The new regional cancer information system (MOSAIQ) will greatly enhance the patient experience, enabling patients' electronic records to be accessed by their entire cancer care team throughout the region. No new paper charts will be needed and the patients' medical history and test results will be available to the care team along their treatment journey.
 "For the first time, staff will be able to access the notes on a cancer patient who comes into Emergency, any other department in the hospital or anywhere in the LHIN," says Nancy Flight, Clinical Lead for the MOSAIQ project. "The benefits of this system are incredible."
 A single clinical information system will provide cancer care specialists with the information and decision-making tools they need to deliver safe, reliable and efficient patient care. Not only will patient information be more readily available, the new information system will help provide care closer to home, and avoid frustration for patients and staff as the patients' information will only have to be provided once.
 "I believe patients want to know that all of their information is available to their health care team no matter where in our region they are receiving care," says Dr. Janice Giesbrecht, Medical Director of Oncology.  "This is an important step in preparing for the opening of the new Walker Family Cancer Centre; enabling us to deliver an integrated radiation treatment program at both the Juravinski Cancer Centre and the new Walker Family Cancer Centre."
 The Oncology Program will fully implement the MOSAIQ system for radiation treatment once the linear accelerators are in operation at the Walker Family Cancer Centre.
---
Let's celebrate!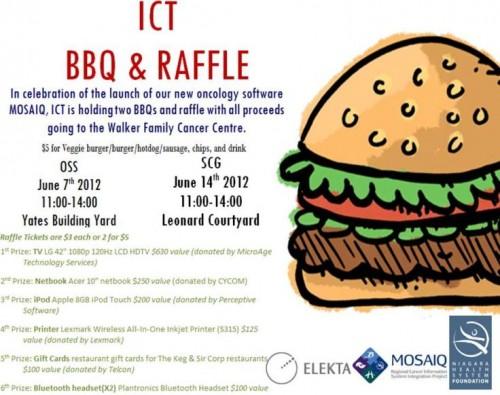 For more information, please contact:
Amanda Thibodeau at 905-378-4647 x44833 orAmanda.Thibodeau@niagarahealth.on.ca.
---
Main Street News!
While construction advances at over 90 per cent, we are beginning to see some changes begin to take shape in Main Street, which will be the main public thoroughfare through the first level of the hospital. As this is a very busy corridor for movement of supplies and equipment, Main Street is one of the final areas to be completed in the construction schedule.
The oldest Auxiliary in Canada, the St. Catharines General Hospital Auxiliary recently celebrated their 147thanniversary. Starting in 1867 with their first fundraising bazaar,
Members of the St. Catharines General Hospital Auxiliary joined us in May for the It's Our Time to Celebrate event where we recognized the tremendous team of volunteers, donors and foundations who enabled us to surpass of our campaign goal of $40 million.
the Auxiliary has continued to hold fundraisers including teas, luncheons, bake sales, raffles, Bingo and golf tournaments, resulting in an incredible $5.5 million for the purchase of patient care equipment for the St. Catharines General Site.
The Auxiliary is working on a 1.2 million dollar campaign to support equipment purchases for the new hospital. In recognition of their outstanding contribution, Main Street will be named in their honour.  As well, three other areas of the new facility will bear their name: the Infusion Bay Stretcher Area in the Walker Family Cancer Centre; a Family Quiet Room on the second floor of the Medical/Cardiology Unit; and the Quiet Room on the third floor in Palliative Care.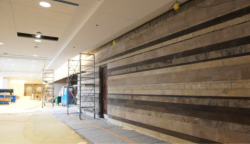 Work has begun on the Main Street feature wall, as well as the Auxiliary Gift Shop located on a busy section of Main Street, adjacent to the Food Court and Spiritual Care Centre.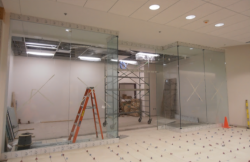 Members of the St. Catharines General Hospital Auxiliary joined us in May for the It's Our Time to Celebrate event where we recognized the tremendous team of volunteers, donors and foundations who enabled us to surpass of our campaign goal of $40 million.

A special thanks is owed to all donors, volunteers, auxiliaries and foundations. It is through your combined efforts that we were able to achieve this tremendous milestone!
---
172 days until construction is complete!
ith 172 days left in the construction schedule, the building is looking more like a hospital with each day that passes. On budget, on schedule and over 90% complete, the design of this world-class facility took the strengths of local knowledge from our clinicians and global expertise of our architects to create a building that is focused on the patient experience and outcome.
 Please join us in achieving the goal of providing one million square feet of care