Tour du Lac riders pause in front of the new St. Catharines Site, home to Niagara's new Heart Investigation Unit, last summer.

After raising an incredible $22,000 in 2011 for cardiac care in Niagara, the Tour Du Lac is back again this year! This seven-day cycling adventure around Lake Ontario is organized by the Take it to Heart Committee, composed of the Rotary Club of St. Catharines South, The May Court Club of St. Catharines and Performance Cars. The ride promises to be a revitalizing and invigorating experience complete with friendly and supportive camaraderie, amicable hosting and picturesque vistas.


Around the lake in seven days!


Funds raised from the tour will contribute to the Take It To Heart Committee's pledge of $750,000 to the It's Our Time Campaign in support of the regional Heart Investigation Unit currently under construction at the new St. Catharines Site. Thank you Tour Du Lac riders, organizers and supporters for your commitment to cardiac care in Niagara!
Visit the Rotary Tour du Lac website for more information, or follow their journey on their blog rotarytourdulac.blogspot.ca.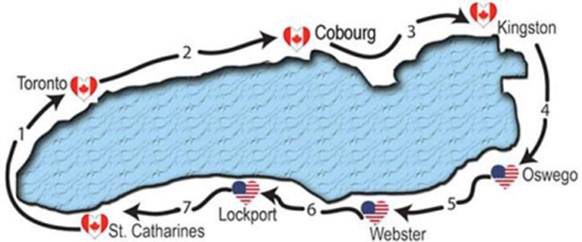 The Tour du Lac ride kicked off this past Sunday, July 8 in St. Catharines.
After approximately 940 kms, riders will circle Lake Ontario in seven days, returning to St. Catharines on Saturday, July 14.


Clean Sweep Project

For staff, programs and departments moving to our new St. Catharines Site on March 24, 2013, we have 256 days to prepare ourselves before the move to begin safe clinical procedures starting on day one.
Today marks our first in a series of Clean Sweep days, in which all programs moving to the new hospital were asked to dispose of items that will not be moving to the new St. Catharines Site.
Environmental Services has informed us that the demand for pick-up and disposal of items is more than we could have ever anticipated! This is wonderful news and the results at the end of the day will certainly be something we can all be proud of.
Due to the higher than expected volumes, Environmental Services has asked to spread the message that they will get to everyone – it just might take a little longer. Don't let that stop you from continuing with your Clean Sweep and getting things ready to be taken away!
Thanks to everyone for your participation in this much needed exercise! Don't forget there will also be two more opportunities this Fall, set to take place on September 12th and November 14th.
Share your Clean Sweep experience!
Don't forget to take pictures of your Clean Sweep experience, or tell us more about it! Please send pictures and commentary to Liisa Morley or feel free to post your program's experience on Your Space.
It pays to sweep! Programs participating will have their name entered into a prize draw!
Some helpful hints for staff participating in the Clean Sweep project today:
Departmental move coordinators are overseeing the Clean Sweep for their individual programs. Please contact your program's move coordinator if you have any questions.
Cintas confidential waste bins are being delivered to each program participating.
Please contact Kevin Traynor (SCG/OSS) or Val Franco (WHS/GNG) for any inquiries related to large item removal or acquiring additional shredding and waste resources.
Please talk to you department's ICT coordinator if you have questions with regards to what technology is staying and what is going, to ensure proper procedures are followed for decommissioning and wiping of patient data.
For information on the policies for the destruction of official records please consult the FIPPA sourcenet page
Join us tomorrow at our New Hospital Town Hall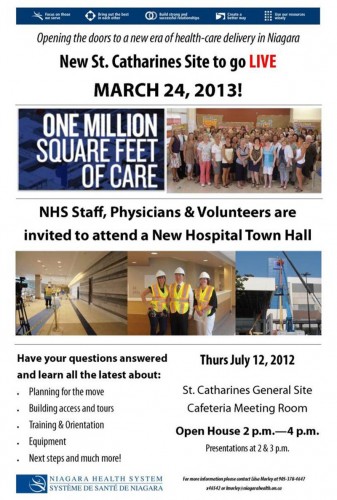 We will be holding our next New Hospital Town Hall tomorrow in the St. Catharines General Cafeteria Meeting Room.
This forum for all staff, physicians and volunteers will feature the latest updates about our new hospital.
Have your questions answered and learn all of the latest about planning for the move, building access and tours, training, orientation, equipment, next steps and so much more!
We are also filming the update so that we can share the news across our sites, as well as the Niagara community.
Countdown to turning the building into a hospital
In 137 days…construction will be complete! In 256 days…we will be providing one million square feet of care!
With 137 days left in the construction schedule, and 256 days until the New St. Catharines Site opens, the building is looking more like a hospital with each day that passes. On budget, on schedule and over 91% complete, the design of this world-class facility took the strengths of local knowledge from our clinicians and global expertise of our architects to create a building that is focused on the patient experience.
Although the exterior of the structure looks complete, it is still just a building; construction will be completed on November 26, 2012. The period between then and "go live" on March 24, 2013 will be used to train and orient staff to the site and also welcome community members to tour their new hospital before we open to provide patient care.
Please join us in achieving the goal of providing one million square feet of care
For more information contact:
Liisa
Morley
Communications Specialist, New St. Catharines Site Project Management Office
Home Phone: 905.378.4647 ext. 46542 Email: lmorley@niagarahealth.on.ca