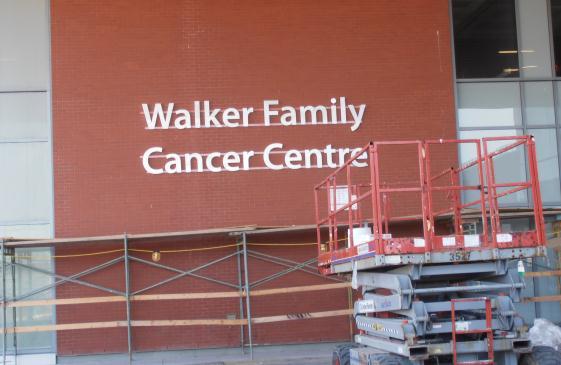 Can you believe it – we have surpassed the 100 day milestone to receiving the keys to our new hospital!
(Insert applause here!)
It won't be long until we welcome a new era of health-care delivery, enabling us to provide one million square feet of care in a state-of-the-art, patient-centred environment.


Attention all staff moving to the new site!
Our next Clean Sweep is happening on September 12! More details to follow next week!
For any questions in advance, please contact Marilyn Bellows or Kevin Traynor.
Looking for something to do this weekend?
 Why not support the Big Move Cancer Ride and our future Walker Family Cancer Centre at these local events.

Support the Big Move Cancer Ride @ Merrittville Speedway Saturday, August 25th
Merrittville Speedway presents the 358 Modifieds, Sportsman, Hoosier Stock and Modified lites.
Race Time is at 7:00 p.m.
Tickets are $12.00 for adults, Seniors $10, Kids 8-12 $5, Under 8 Free.
Stop by the Big Move Tent! The first 100 people will receive a FREE Big Move water bottle.
Purchase a Big Move T-shirt for $30 with proceeds toward the 2012 Big Move Cancer Ride.
Donations will also be accepted with an official tax receipt issued for donations over $10.00
Countdown to turning the building into a hospital 
With 95 days left in the construction schedule, and 213 days until the New St. Catharines Site opens, the building is looking more like a hospital with each day that passes.
On budget, on schedule and over 95% complete, the design of this world-class facility took the strengths of local knowledge from our clinicians and global expertise of our architects to create a building that is focused on the patient experience.
Although the exterior of the structure looks complete, it is still just a building; construction will be completed on November 26, 2012. The period between then and clinical move day on March 24, 2013 will be used to train and orient staff to the site and also welcome community members to tour their new hospital before we open to provide patient care.
Please join us in achieving the goal of providing one million square feet of care


Liisa
Morley
Communications Specialist, New St. Catharines Site Project Management Office
Home Phone: 905.378.4647 ext. 46542 Email: lmorley@niagarahealth.on.ca