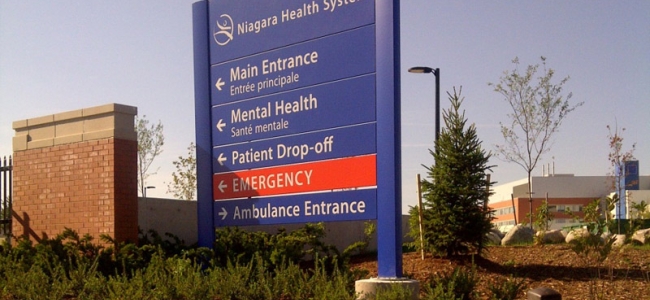 With 74 days left in the construction schedule, and 192 days until we begin providing care at the New St. Catharines Site, the building is looking more like a hospital with each day that passes.
The trades have even begun installation of directional signage!
On budget, on schedule and over 95% complete, the design of this world-class facility took the strengths of local knowledge from our clinicians and global expertise of our architects to create a building that is focused on the patient experience.
Although the exterior of the structure looks complete, it is still just a building; construction will be completed on November 26, 2012. The period between then and clinical move day on March 24, 2013 will be used to train and orient staff to the site and also welcome community members to tour their new hospital before we open to provide patient care.


Second operation Clean Sweep underway!


The first Clean Sweep held on July 11 was a huge success, far surmounting our expectations with over 33 programs involved. Today marks the second installment of this series, with the next clean sweep day taking place on Nov 14.


With 192 days to prepare ourselves before our move to the new St. Catharines Site, we are committed to beginning safe clinical procedures starting on day one.
One of the necessary steps in this preparation has included the disposal of items that will not be moving to the new site.
With the summer vacation months behind us and the kids back in school, what better time to get back into the swing of cleaning up all of our old stuff!
Thanks to our dedicated coordinators and staff for your participation in this much needed exercise!


Open the eyes and hearts of friends and family…join our volunteer team!
Volunteer Resources is calling on our hospital community to open the eyes and hearts of family and friends to join our volunteer team! We are embarking on a major campaign from September until November 2012 to recruit volunteers for our seven hospital sites, with focus on the New St. Catharines Site.
Why should your family and friends join our hospital volunteer team?
Hospital volunteering is an ideal opportunity for retiring professionals looking for a meaningful experience in their next chapter.
It's rewarding; a chance to help people by using skills and experience to face new challenges.
As a member of a dynamic and friendly team of dedicated community members, volunteers get to make a difference in local healthcare.
Volunteers are an integral part of providing a great patient experience at the Niagara Health System.
Our team is 1,100 strong. They share their time as volunteers across our seven sites.
Be a part of our long history! For 147 years, our hospitals have benefited from volunteer generosity. They fundraise for equipment and capital projects, provide customer service, administrative assistance and leadership. Most of all, they give compassionate care to patients and their loved ones.
An opportunity to be physically active. The new hospital site is nearly one million square feet!



We need your help to make this campaign a success!
Please talk about volunteering at the hospital with family members or friends who you would recommend join our team. Encourage them to apply and offer to be their reference.
Learn more about our programs, volunteer positions and download an application form by visiting niagarahealth.on.ca/volunteer. Applications will be accepted between September and November 2012. Applicants are matched to positions based on their skills and abilities, as well as commitment to a weekly shift for one year. Training and orientation will begin in December to ensure volunteers are prepared for their important roles when we transition to provide patient care at the new St. Catharines Site on March 24, 2013.
Interested in promoting volunteering at the hospital in the community? Posters are available by calling extension 44630. Please call if you have a high profile place you can hang a poster that will attract the attention of mature community members who may want to get involved.
Please forward this email to any local family and friends you would recommend as volunteers! Thank you for your help in our recruitment endeavors!
Volunteer Resources Team
Please join us in achieving the goal of providing one million square feet of care
Liisa
Morley
Communications Specialist, New St. Catharines Site Project Management Office
Home Phone
:
905.378.4647 ext. 46542
Email
:
lmorley@niagarahealth.on.ca