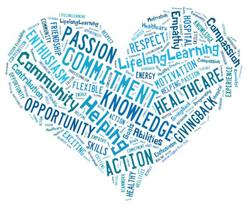 The Niagara Health System (NHS) is on the hunt for newly retired and soon-to-be-retired professionals to volunteer their valuable skills and time to help provide a great patient experience as part of our team.
"We're looking for dedicated, caring individuals who want to make a difference in local healthcare," says Julie DeRuiter, who recruits volunteers at the NHS. "We will match people with a role that is meaningful to them and uses their talents in partnership with our doctors, nurses and staff."
"In addition to professional skills, we are looking for people who are strong communicators, are committed to the highest standards of customer service and are able to work in a busy environment," adds Ms. DeRuiter. "We are focusing our current recruitment efforts on retirees because they are most often available during the key times in the day that support is needed at the hospital."
A number of new and challenging volunteer opportunities will be available at the new St. Catharines hospital site when it opens in March 2013 to provide one million square feet of care. Positions are also available at all of our other sites across the region.
The types of volunteer positions include patient and family care; auxiliary membership, fundraising and gift shops; information and customer service; and leadership opportunities. Among the patient areas needing volunteers are the Walker Family Cancer Centre, outpatient clinics; medical units, emergency departments and TLC (a new volunteer-based patient-centred care initiative).
NHS is fortunate to have a diverse team of more than 1,100 volunteers. They range in age from 14 to 96 and come from all walks of life, bringing a wide variety of skills to their roles. Volunteers help provide quality patient-centred care in a number of ways. They visit with and comfort patients during challenging times in the patients' lives. They give information and directions, and assist at a variety of clinics and outpatient programs. Volunteers also fundraise for equipment and capital projects, provide customer service, administrative assistance and leadership.
"Hospital volunteering is an ideal opportunity for people nearing retirement and looking for a meaningful experience in the next chapter of their lives," says Debbie Anderson, Coordinator, Volunteer Resources. "We hope that people who have excellent interpersonal skills and enjoy comforting others will consider joining our team. The feedback we get from our volunteers is that their roles are rewarding; a chance to help others by using their years of experience and an opportunity to take on new challenges."
To learn more about the NHS volunteer program, positions and the application process, please click here. Applications will be accepted between now and November 2012. Applicants are matched to positions based on their skills and abilities as well as commitment to a weekly shift for one year.
What our volunteers say about volunteering at the NHS:
"As a long-time Niagara resident, I was first drawn to volunteer at the NHS because of the diverse opportunities the organization has to offer. The Volunteer Resources Department makes it their goal to place volunteers in roles that accentuate talents while providing a sense of fulfillment. I continue to volunteer because I support and want to be a part of the strategic focus on quality patient care." Blake Little
"When I retired I wanted to give back to the community. Several (people) in my family have had cancer so I felt volunteering was a good way to show my appreciation for the great care they received. I basically talk to the people coming in for treatment. I serve them refreshments …pick up patients from admitting, take people to X-ray… I feel in my small way I am helping people who are going through a very difficult time. Their appreciation that they express for my help gives me the greatest feeling of accomplishment". John Keene