As construction access is still limited while we wait to get the keys on November 26, we enticed some of our medical equipment vendors to showcase some of the exciting technologies we will soon be able to utilize in caring for our patients, families and loved ones at our new St. Catharines Site.
Over an estimated 300 staff, physicians and volunteers packed the St. Catharines General Cafeteria over the course of the Vendor Fair held this past Friday, October 26; interacting with vendors to learn about the advances in technology that will soon be available to treat our patients.
"Selecting equipment for our new hospital involved hundreds of hours of engagement and planning with participants across all 38 departments, along with several external partners, to ensure we have not only a well – designed and built facility, but also the best equipment to meet patients' needs."
Maria Vuono, NHS Coordinator of Clinical Planning and Redevelopment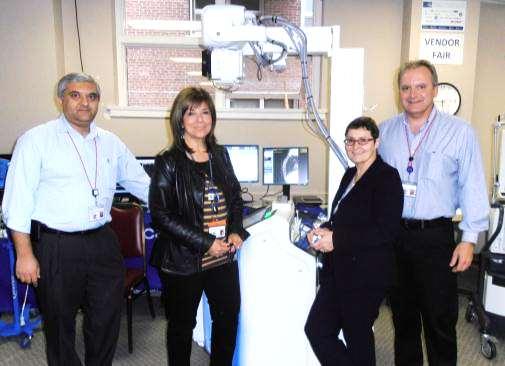 Left-Right: Diagnostic Imaging Program Chief Dr. Amit Mehta, Regional Director Bonnie Sipos, Manager Janet Wilmot and Charge Technologist Jack
Samchyk.
Advancing mental health and addictions care in Niagara


As part of ongoing series featuring our new hospital, we recently invited the media to tour our Mental Health & Addictions Program's space in the new St. Catharines Site.
At over 81,000 sq. ft., the Program boasts the largest department square footage in the new hospital, encompassing the entire first level of the inpatient platform. Dr. Edgardo Pérez, a world-renowned authority in the field of wellness, mental health and addictions was recently introduced to the Niagara community as the regional lead of this blossoming program.
Equipped with a world-renowned leader and a state-of-the-art facility, the NHS is well on its way to becoming a leader in creating a patient client centred model of care for the very important patients in Niagara who have need of this Program.
Click on the following links for coverage from our local media partners.
Bullet News
New St. Catharines hospital boasts first purpose-built mental health wards in Niagara
Niagara This Week
New era of mental health care
St. Catharines Standard
A new continuum of mental health care
Mental Health and Addiction services currently span across the NHS sites. When inpatient services consolidate at the new site in 2013, the Program will provide a range of mental health and addiction services to patients in the Region. Outpatient mental health and addictions services will continue to be provided across the NHS sites.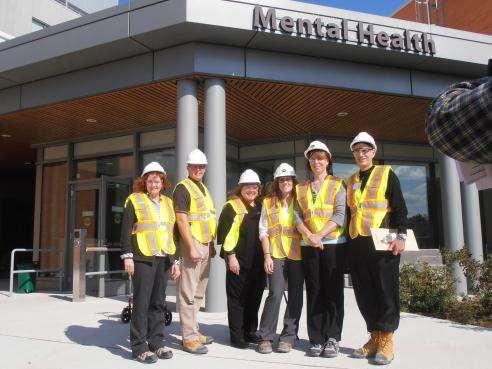 Left – Right: Mental Health and Addictions Program Director Heather Scott, Regional Educator Derek Christensen, Vice
President Linda Boich, Nursing Resident Rebecca Hicks, Program Development Manager Barb Pizzingrilli and Program Chief
Dr. Edgardo Perez.
Countdown to turning the building into a hospital
With 26 days left in the construction schedule, and 145 days until the New St. Catharines Site opens, the building is looking more like a hospital with each day that passes.
On budget and on schedule, the design of this world-class facility took the strengths of local knowledge from our clinicians and global expertise of our architects to create a building that is focused on the patient experience.
Although the exterior of the structure looks complete, it is still just a building; construction will be completed on November 26, 2012. The period between then and clinical move day on March 24, 2013 will be used to train and orient staff to the site and also welcome community members to tour their new hospital before we open to provide patient care.
Join us in achieving the goal of providing one million square feet of care


Liisa
Morley
Communications Specialist, New St. Catharines Site Project Management Office
Home Phone
:
905.378.4647 ext. 46542
Email
:
lmorley@niagarahealth.on.ca