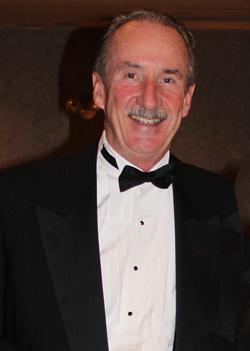 Michael Farrell, Niagara Health System Foundation President and Chief Executive Officer, has been named the 2012 Outstanding Fundraising Professional by the Association of Fundraising Professionals (AFP) Golden Horseshoe Chapter.
This distinguished award recognizes a person who has made a positive impact in the lives of people within his or her community.
"On behalf of the Niagara Health System, I would like to congratulate Michael on his wonderful achievement that recognizes a remarkable career dedicated to the advancement of philanthropy," says Dr. Sue Matthews, NHS Interim President and CEO. "We are very pleased that Michael chose to continue his fundraising work here in Niagara and would like to thank him for the support and leadership he has provided so far."
For more than 30 years, Michael has contributed to the philanthropic community by practicing and teaching ethical fundraising and mentoring emerging leaders in the field to help grow a culture of philanthropy in Canada and abroad. His leadership philosophy involves a team environment where everyone contributes and is encouraged to think outside the box, demanding only the best from his staff and encouraging others to follow suit.
Michael's career builds on his fundraising experience throughout the Golden Horseshoe.  In Niagara, he is a former Executive Director of the United Way of Niagara Falls and Director of Development and Community Relations at Greater Niagara General Hospital Foundation.
More recently, Michael is former President and CEO of Hamilton Health Sciences Foundation where he helped raise the Foundation to a whole new level of fundraising by overseeing a successful $102-million capital campaign to rebuild key areas of the Henderson, Hamilton General and Children's hospitals.  He also implemented the first major hospital lottery program in Hamilton netting over
$1.1 million.
As one of Canada's foremost fundraising professionals, Michael has also provided his expertise abroad. He is the founding Dean of the Capital Campaign track for the Association for Health Care Philanthropy Fundraising Institute run by the Association for Healthcare Philanthropy (AHP) at the University of Wisconsin. For the past two years, Michael has been a guest of the Fundraising Institute of Australia, acting as Fundraising Management Track Chair for the Madison Down Under Fundraising Program.
Michael has been named a Distinguished Alumni by Mohawk College in Hamilton and was further honoured at Mohawk Colleges 40th Anniversary, being named one of Mohawk's "Top 40 in 40 Years." In 2007, he was the first person to be named the "Fundraising Professional of the Year" AHP of Canada and is one of only 15 people in Canada to have earned the AHP Fellows designation.
In July 2011, Michael came back to Niagara as the President and CEO of the Niagara Health System Foundation to work collaboratively with all partner foundations that raise funds for healthcare in Niagara.