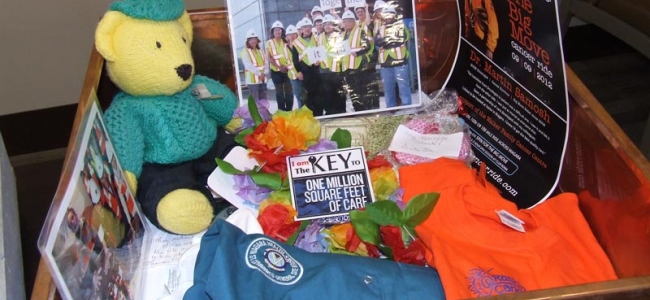 The Niagara Health System Oncology Program is marking a new chapter in cancer care in Niagara by storing a time capsule filled with items of historical interest at the site of the new Walker Family Cancer Centre to be opened 25 years from now.
On Wednesday, November 21, staff, physicians, volunteers, patients and their families will gather at the new St. Catharines Site to place a variety of special items in the time capsule which was started during the Oncology Program's 25th anniversary celebrations in 2009.
"Our hope is that our future colleagues and the community will appreciate the history we have left for them," says Dr. Janice Giesbrecht, Medical Director of Oncology. "Items in the time capsule recognize more than a quarter of a century of quality care in Niagara. We will also be including good wishes for the future enhancements in oncology services that the Walker Family Cancer Centre will bring to our area."
The time capsule celebrates a proud legacy of care and partnerships. Among items to be included are the guest book from the Oncology Program's 25th anniversary celebration, a volunteer smock, and a breast screening awareness video along with newsletters, photos and other mementos.
The time capsule will be buried for the next 25 years outside the main entrance of the new St. Catharines Site. A cement stone with the handprints of a former patient and members of the Walker family symbolizing the many partnerships required to fight cancer will mark the capsule's location.