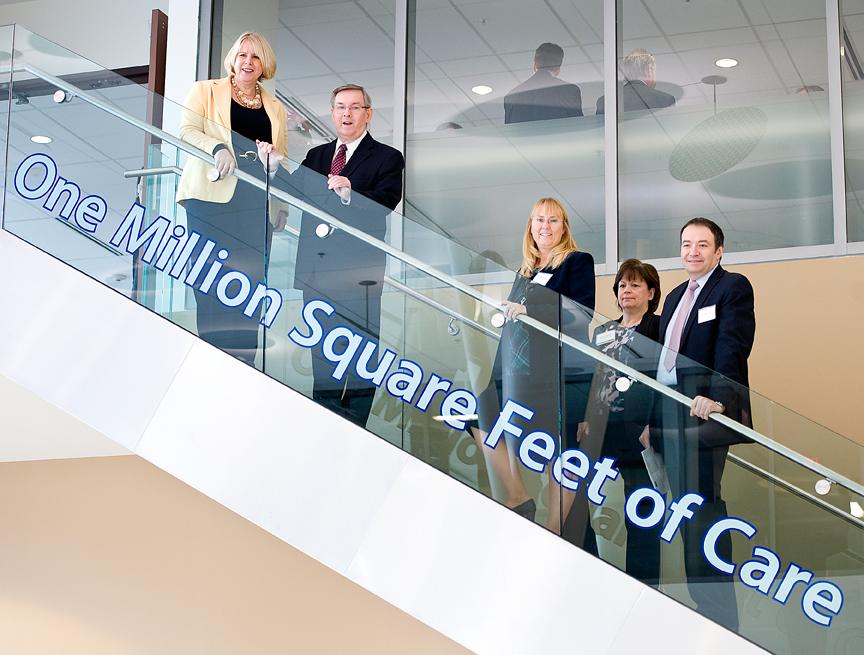 From left, Ontario Minister of Health Deb Matthews, MPP for St. Catharines and Minister of the Environment Jim Bradley, NHS Interim President and CEO Sue Matthews, NHS St. Catharines Vice President Susan Kwolek and NHS Supervisor Dr. Kevin Smith.


Deb Matthews, Minister of Health and Long-Term Care, joined St. Catharines MPP Jim Bradley, project partners, hospital and foundation officials this morning to recognize the completion of the new St. Catharines site with a symbolic key exchange.
The new complex, located at First Street and Fourth Avenue in St. Catharines, will open its doors to patients on March 24, 2013. The state-of-the-art facility with capacity for up to 399 beds will provide the community with enhanced programs and services, replacing the aging St. Catharines General and Ontario Street sites of the Niagara Health System.
Eighty per cent of the hospital's rooms will be single patient rooms – the most currently available in a community hospital in Ontario. In addition to offering new regional services such as comprehensive cancer care, cardiac catheterization and longer-term mental health, the hospital will offer acute and critical inpatient services, surgical services, women, babies and children's health, emergency and ambulatory services under one roof for the residents of St. Catharines, Thorold, Niagara-on-the Lake and the surrounding area.
With construction complete, the Niagara Health System will begin preparing for occupancy, which includes:
performance testing to ensure the building systems are functioning
installing remaining equipment and furniture
training over 3,000 staff, physicians and volunteers
community tours of the new hospital in the New Year before the official opening in March
In addition to the hours invested by hospital staff, physicians and volunteers, over 2.7 million man hours went into the construction of the new hospital and at the peak of the project more than 900 workers were on site daily. The new hospital, which was completed on time and on budget, is setting national standards for hospital design.
Infrastructure Ontario and the Ministry of Health and Long-Term Care are working with the Niagara Health System to build the new health-care complex, which will remain publicly owned, publicly controlled and publicly accountable.
Quotes:
Deb Matthews, Minister of Health and Long-Term Care
"This new, state-of-the-art facility in Niagara region supports our government's commitment to provide the right care, at the right time, in the right place as part of our Action Plan for Health Care. It's a momentous occasion for everyone involved and I am excited for the hospital's official opening in early 2013."
Sue Matthews, Interim President and CEO, Niagara Health System
"The NHS recognizes the efforts of every staff member, physician and volunteer involved in the planning of our new hospital for their unwavering dedication in shaping the history of healthcare in Ontario and the pursuit of providing one million square feet of care. As we move forward in occupying our new hospital, I am excited by the possibility of turning the facility over to our health-care providers who will translate this into a success for our patients, clients and families – for generations to come."
Dr. Kevin Smith, Niagara Health System Supervisor
"This new, state-of-the-art facility will ensure staff, physicians and volunteers have the infrastructure, equipment and technology required to provide exemplary care to the patients of Niagara. I want to thank and recognize all those who worked so tirelessly to make today a possibility, including the tremendous support from donors and volunteers throughout the region. I look forward to the next few months as we prepare to open our doors to a new era of healthcare in Niagara."
Jim Bradley, MPP, St. Catharines
"Reaching this milestone would not have been possible without the hard work and dedication of everyone involved in this project. This is a great achievement and one we can all be extremely proud of."
Mike Marasco, CEO, Plenary Health
"Knowing that this facility will serve this community and region for years to come is a tremendous source of pride for our team. With construction complete, we look forward to our continued relationship with our colleagues and friends at the Niagara Health System."
SOURCE: Infrastructure Ontario
For further information:
Liisa Morley
Niagara Health System
905-378-4647 x 46542
Mandy Downes
Infrastructure Ontario
416-327-5246
Mike Marasco
Plenary Health
604-897-6933
Backgrounder
The new hospital, which was completed on time and on budget, is setting national standards for hospital design. The St. Catharines site is:
One of the first hospitals in the world to feature a dedicated HVAC system that can be separated if a significant exposure or pandemic occurs. The independent section includes half of the Emergency Department, two Operating Suites, ICU and one inpatient unit; ensuring that regular operations can continue in the remainder of the hospital
One of the first hospitals in Canada with a Distributed Antenna System (DAS) that will enable guaranteed wireless coverage throughout the building
Features the first Operating Suites in Canada to be lined with corian walls for improved infection prevention and control
Boasts 80 per cent single patient rooms – the most currently available in a community hospital in Ontario
The building has been designed to achieve Leadership in Energy and Environmental Design (LEED) certification; targeting an energy savings of 46% by cost (relative to the Model National Energy Code for Buildings).

Examples of conservation measures include:
High performance building exterior
Ventilation air heat recovery on most of the outdoor air
High efficiency boilers and chillers
Low flow service water fixtures
Efficient lighting design