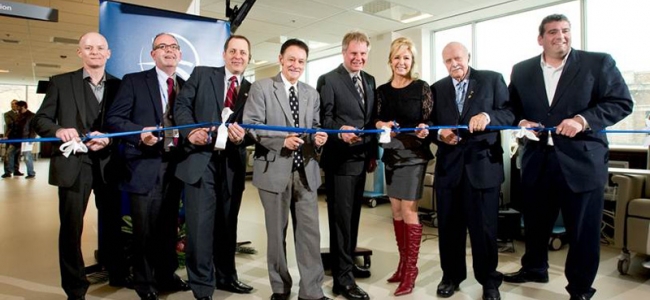 Closer to home access for patients and caregivers beginning March 4, 2013
The ribbon was cut today on a new community-based kidney care centre that will provide closer to home access for area dialysis patients and their caregivers when it opens March 4, 2013.
The Niagara Falls Kidney Care Centre is a first for the region as a stand-alone satellite dialysis site. Traditionally such care has been provided in a hospital setting with patients in Niagara driving to either Welland or St. Catharines three days a week for four- to five-hour treatment sessions.
Located at 4342 Queen St., Niagara Falls, the new 18,000-square foot dialysis centre will host 18 dialysis stations and serve approximately 100 individuals providing close to 17,000 treatments per year. The spacious, bright centre features the latest equipment and individual entertainment units for patients; all important features for a modern dialysis centre. The Kidney Care Centre is built with the capacity to expand as need grows.
Chronic Kidney Disease Programs across the province are organized in a 'hub and spoke' model. In Niagara, the regional centre or 'hub' will be at the new St. Catharines Site (opening March 24, 2013) and the 'spokes' will be at the Niagara Falls Centre and at the Welland Hospital Site. As a 'spoke', the Niagara Falls Kidney Care Centre has space for clinics and education services, as well as one-on-one treatment rooms in addition to the dialysis stations. As the hub, the St. Catharines Site will host 11 inpatient nephrology beds, now located at the Welland Site.
The Niagara Falls centre has become a reality thanks to an investment of $3.3 million from the Province of Ontario and generous support from the Niagara Health System Foundation and the Greater Niagara General Foundation.
QUOTES
"This is an important step forward for health care in Niagara. After many years of advocating for this life saving care closer to home I am proud that the province has chosen to invest in the health of our residents." Kim Craitor, MPP Niagara Falls
"I am so thankful to the team of doctors and nurses that have cared for me over the years in St. Catharines, but am also looking forward to getting my treatment at the new centre closer to where I live. It will make a big difference in the lives of me and my wife." Michael Havinga, dialysis patient
"The prevalence of kidney disease is increasing in Niagara and we know that demand will continue to increase in the future. Patients attend dialysis three times a week for four- to five-hour sessions; this is a demanding schedule. A kidney transplant is the only option that frees patients from the restriction of dialysis. To receive care closer to home for these patients and their families will be significant." Dr. Anthony Broski
"This centre is about independence and about improving the quality of life for people living with chronic kidney disease in this area. The entire team is excited about what this means for the quality of life for patients and their families, and to start offering care here." Martin Ruaux, Regional Director of Kidney Care for the Niagara Health System
Media contact:
Rebecca Slavik, Communications Specialist, 905-378-4647 ext. 43879.