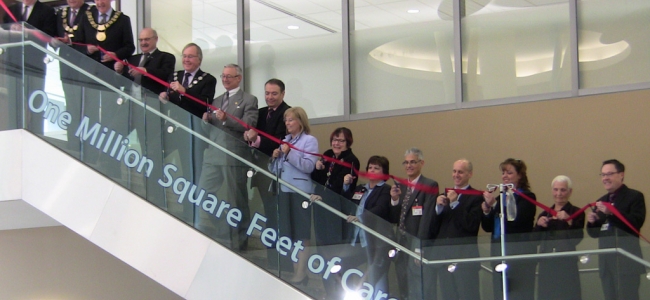 The ribbon has been cut, and the final countdown is officially on for the March 24 opening of the new St. Catharines hospital site.
With just 17 days until opening, community partners from around the province joined the Niagara Health System this morning for the ceremonial ribbon cutting of the new St. Catharines Site. There is a tremendous amount of excitement within the NHS and the broader community as the opening of this state-of-the-art facility approaches.
"We were very pleased to have a large number of political leaders, health care partners, staff, physicians and volunteers join us this morning for this important milestone for healthcare in Niagara," says Dr. Kevin Smith, NHS Supervisor. "The new hospital is attracting international attention for its design and application of technologies. We are extremely fortunate to have world-class facilities in the Region to support our care team in providing an optimal patient experience."
The new St. Catharines Site is a replacement community hospital for the St. Catharines General and Ontario Street sites. It will also offer new regional services in cancer care, cardiac care and mental health care not currently available in Niagara.
"Countless people and organizations have played a crucial role in bringing us to where we are today, and I would like to thank everyone who has helped to make this facility a reality," says Dr. Sue Matthews, Interim President and CEO of the NHS. "Hundreds of hospital staff, physicians and volunteers continue to work extremely hard behind the scenes to be ready for opening day. We are all excited to have the opportunity to provide one million square feet of care to our patients and their loved ones."
Media contact: Liisa Morley, Communications Specialist, 905-378-4647, ext. 46542, or mobile 905-246-1449.