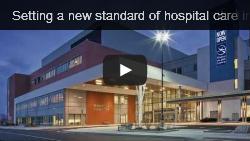 Did you know that the Niagara Health System is home to the newest, most state-of-the-art hospital in all of Canada?
To celebrate the opening of our new hospital and its patient-centred features, and to create awareness of the services provided at our existing sites, our Corporate Communications Department produced a special commemorative publication. Copies were distributed in all local SunMedia publications (St. Catharines Standard, Niagara Falls Review or Welland Tribune) on April 4.
You can also check out the MinutesCount campaign we recently launched in partnership with Niagara Emergency Medical Services to educate our community about the best way to use 911, Emergency Department and Urgent Care services.
With the opening of our new St. Catharines Site, it is important that we all familiarize ourselves with what is changing and what is staying the same with respect to the services we provide across our sites. Please be sure to share this important information with your colleagues, family, friends and neighbours so that everyone is aware of the healthcare services available across Niagara.
Setting a new standard of hospital care in Niagara (PDF 5.91 MB)