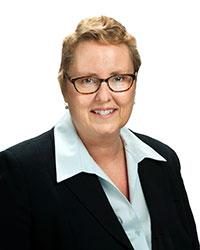 Niagara Health System is today announcing that Dr. Sue Matthews, Interim President and CEO, has submitted her resignation in order to pursue a new opportunity abroad. Effective February 17, 2014, Dr. Matthews is assuming the position of CEO at the Royal Women's Hospital in Melbourne, Australia, the country's largest hospital dedicated to women and babies health.
"We are very pleased for Sue, but are also saddened to see her go," said Barry Wright, Niagara Health System's incoming Chair of the Board. "Sue left her mark on our hospitals, and will be remembered for her strong leadership and dedication to the people who make up our incredible healthcare team. We owe her a great deal of thanks."
Dr. Kevin Smith, NHS Supervisor, expressed profound gratitude for Dr. Matthews'  leadership during his time with the NHS. 
 "Sue has been both a transformative leader, and a steady hand as the organization underwent a great deal of change.  She shepherded many important improvements at the NHS, and led the consolidation of activities and the opening of our new site.  Her skills and style will be missed," he said. "I am grateful to Sue for her dedication, and for her thoughtful counsel as I enacted my duties as Supervisor. Sue is well-liked and respected by the staff at NHS, and across the Province, and I know all will join me in wishing her well as she brings her skills and abilities to an exciting new role."
Dr. Matthews noted the most difficult aspect of her decision was her commitment to the team members at Niagara Health System. "The last three years have been dramatic and exciting, and every success we've experienced has been a result of remarkable teamwork. I do love the amazing people at every level of our organization who come to work committed to bettering the lives of those we serve.  This is the difficult part of making the call to leave," she noted.
Margaret Fitzherbert, Chair of the Board of Directors at Royal Women's Hospital, said the recruitment of Dr. Matthews will usher in a new era at the hospital. "The Women's has a history of exemplary leadership and I am confident that this will continue with Dr. Matthews as our new CEO. Her achievements and reputation as a health service leader, policy innovator and researcher align so well with what we do. I look forward to Dr. Matthews steering the Women's to even greater success through outstanding care, research and advocacy for women's health."
Dr. Matthews joined Niagara Health System in 2009 as Vice President Patient Services and Chief Nursing Executive. In September 2010, she became Executive Vice President Clinical 
Operations and Chief Nursing Executive. In January 2011, she was appointed Interim President and CEO in addition to her existing roles. Previous to her time at NHS, Dr. Matthews was the Vice President and Chief of Practice at VON Canada, and previous to that was Chief Nursing Officer for the Province of Ontario. In 2011, she was awarded the Ontario Hospital Association's Margret Comack Award of Excellence in Nursing Leadership.
In the coming weeks, Niagara Health System will re-examine its leadership structure and will announce any changes closer to Dr. Matthews' departure. 
Media contact:  
Brady Wood, Chief Communications Officer,office: 905-378-4647, ext. 43111; cell: 905-380-0884, brady.wood@niagarahealth.on.ca.