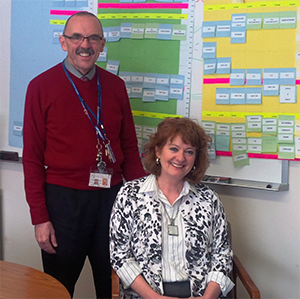 Dwayne Mountney, Manager of Residential Treatment and Heather Scott, Program Director, Mental Health and Addictions.
Hundreds of Niagara residents are impacted by and struggle with addiction. The healthcare team at the New Port Centre of the Niagara Health System are using the centre's 25th anniversary to remind the community that they are here and ready to provide support.  
The New Port Centre at the Port Colborne Site of the NHS offers residential and community addiction recovery treatment options to help people overcome substance use. This year marks a quarter century of providing residential addiction recovery services. 
"Addiction by its nature can be devastating for individuals and families," says Dwayne Mountney, Manager of Residential Treatment. "Our team is here to help people during their recovery and to let them know that there is great hope for a healthy life moving forward; that was our message 25 years ago and it remains the same today."
Prior to the Centre opening in the spring of 1988, individuals from the Niagara region frequently travelled to the United States for residential addiction treatment services. "In our first year of operation we admitted 118 individuals and the need for service has steadily increased," says Heather Scott, Program Director, Mental Health and Addictions, who was hired as the original director of the program. "New Port Centre was one of the largest programs of its kind in the province for many years. Organizations from across the country have looked to New Port as leading edge and a model when planning their own services. We are proud to be pioneers in this sector. When we opened 25 years ago, we had 15 beds and a team of five. The program has grown to 35 beds with a team of 26."
New Port Centre has a history of being a leader in the province: it was the first residential treatment program to accept individuals on methadone; the first to offer treatment streams tailored to client needs; and the first to offer tobacco cessation as an imbedded component of treatment.      
 "I feel blessed to have been a part of the history of New Port; to have met the people who have come through the doors, both clients and staff," reflects Ms. Scott. "New Port Centre was and continues to be a good news story for Niagara; it has always been a shining light."
The following programs and services are also housed at Niagara Health System's New Port Centre:
Hepatitis C Care Clinic
The Niagara Eating Disorder Outpatient Program
Methadone Clinic
The Multilingual Problem Gambling Prevention Program