Niagara Health System is pleased to announce that Dr. Mike Christian is joining the NHS as Chief Safety Officer.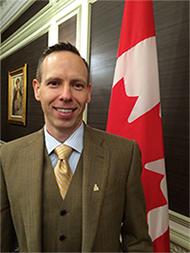 In the role, Dr. Christian will develop new approaches to supercharging patient safety across the organization, building on recent successes. He will also have a mandate to look beyond the boundaries of the hospital system to coordinate safety for all patients, working with partners including community agencies. Dr. Christian will also be an active participant in key decision-making and planning, including at the Executive level and at the Quality committee of the hospital's Board of Directors.
The Chief Safety Officer role is a unique one within the Hamilton Niagara Haldimand Brant Local Health Integration Network, and innovative even when looking at academic hospitals across Canada, in particular due to the role's mandate to coordinate with community partners.
Maj. Christian is joining NHS from the Canadian Armed Forces, practicing clinically at Mount Sinai Hospital and University Health Network in Toronto, where he is currently University of Toronto faculty and the Medical Director of the Mount Sinai Critical Care Response Team. Dr. Christian has held various and diverse roles in the health system, including Critical Care, Infectious Diseases, Internal Medicine, Flight Surgeon, and originally was a Paramedic. He studied at Brock University before he became a physician at McMaster, completed his specialist training at the University of Toronto and McMaster University followed by Public Health training in the U.K. and Tropical Medicine in Peru. He has been funded to undertake extensive research in critical care, disaster critical care, and infectious diseases, and has published and lectured extensively on these topics. Maj. Christian will join the NHS in early 2015 following his release from the Regular Forces but will continue to serve in the CAF as a Reservist.
Quotes:
"Becoming the safest hospital system in Canada will only happen by design, and engaging someone of Mike's calibre is part of that design. This role is unique, and there is no better clinician leader to build on our recent safety record. Mike will bring greater focus and renewed energy to fulfilling our safety vision." -Dr. Tom Stewart, NHS Chief of Staff
"Joining NHS is really a sign of my career coming full circle as I started this journey as a Health Studies student at Brock University, followed by my MD at McMaster University. Niagara has so much to offer as a community hospital system with an academic affiliation, and is clearly an organization on the move. I couldn't be more excited to join this dynamic team." -Dr. Mike Christian
"Upon meeting Mike it was clear to me he would help us advance a culture of safety while also being a great fit with our team. NHS is safe for patients today and will keep on our journey of continuous improvement drawing on Mike's expertise and ability to inspire other clinicians." -Dr. Suzanne Johnston, NHS President
"Attracting a leader of Mike's calibre from Toronto's academic health sciences network to Niagara is a tribute to the hard work NHS has undertaken to transform and renew itself. Mike will impact not only our clinical care agenda but our evolving academic mission. We are retaining and attracting the best and brightest, and as a result continue the transformation begun in 2011." -Dr. Kevin Smith, NHS CEO
"Bringing Dr. Christian to the NHS builds on our Board's priority to ensure that all our patients across our region receive consistently safe and effective healthcare. Our Board is very proud of our progress to-date, and welcomes Mike to this important role." -Dr. Barry Wright, Chair, NHS Board of Directors
Questions & Answers
What will Dr. Christian's day-to-day role look like? What will he do?
A large part of Dr. Christian's role initially will be building a compelling, forward-looking vision for patient safety across the organization, working with key leaders including the Quality team, and leaders including Dr. Stewart and other members of the Executive Team.  Ultimately this plan will result in a new emphasis on measurement/monitoring/reporting, and the development of new clinical pathways and guidelines to further protect patients while in the system's care. As the physician champion for safety, he will have a large role working with doctors in particular, examining practices and soliciting feedback on opportunities they see to advance the safety agenda, or hearing about barriers they encounter. Dr. Christian will also work to build on existing relationships with external agencies in the health system, with a view to collaborative partnerships that will enhance coordination and safety as patients transition across phases in their care. 
Will Dr. Christian also continue his clinical skills?  Will he be working in critical care here as a physician?
Dr. Christian will be examining opportunities to continue some clinical work in Niagara Health System following his arrival. 
Chief Safety Officer - Backgrounder
1. What is a Chief Safety Officer (CSO)?
A CSO is a member of a hospital's senior leadership team whose focus is to strategically align all of the safety sensitive portfolios including Quality & Risk Management, Infection Control & Prevention, Antibiotic Stewardship, Critical Care Response Teams, Medication Administration, Emergency Preparedness and Occupational Health promoting a collaborative and cohesive program to establish a health system that is safe for patients and staff.
2. What is the objective of the CSO?
Working in partnership with the Niagara Health System's (NHS) leadership and medical staff, the CSO will provide leadership in the development and measurement of the NHS approach to patient safety.
3. What are the responsibilities of the CSO?
The Chief Safety Officer (CSO), in consultation with the Chief of Staff/EVP, Medical and VP, Quality and Strategy, must attend to both the internal and external dimensions of his role, by discharging the following responsibilities:
Develop, initiate and oversee the development of a comprehensive patient safety strategy by collaborating with administrative and clinical staff and programs, to align safety initiatives across the NHS.
In collaboration with clinical staff and chiefs, participates in the development, monitoring, reporting, and improvement of activities related to clinical pathways and guidelines.
Collaborate regionally within our LHIN on projects such as transport policies, surge capacity planning, and disaster exercises.
Review and evaluate services of the NHS that affect patient safety issues, identifies problems, makes recommendations for improvement, and monitors services to ensure that safety recommendations are implemented and the desired results are achieved.
Proactively educates NHS physicians and staff regarding patient safety best practices.
Actively participates in the Quality Committee of the Board, making recommendations and providing updates on the status of safety initiatives.
Engages members of the Clinical Operations and Quality Committee to review quality initiatives as they relate to patient safety.
Leads the development of NHS policies and procedures related to patient safety and participates as a stakeholder in the crafting of related NHS policies.
Participate in the investigation and reporting of events as required by regulatory agencies and serve as a physician champion on efforts related to patient safety.
Develop long-range goals, annual objectives, and strategies for area(s) of responsibility. Measures and reviews system performance and budget performance. Provides input into major capital expenses related to safety (e.g., information systems).
Work in collaboration with Infection Prevention and Control, Antibiotic Stewardship Program, Occupational Health and Safety, Risk Management, Quality, Emergency Preparedness, and others as necessary to align organizational safety initiatives. Foster and maintain collaborative relationships with external agencies, and stakeholders related to patient safety
Build strong relationships with other key stakeholders (e.g. EMS, public health). 
Media contact:
Brady Wood, Chief Communications & External Relations Officer
905-378-4647, ext. 43111, or 905-380-0884 (cell); brady.wood@niagarahealth.on.ca