When you walk into the second-floor waiting room of the NHS Walker Family Cancer Centre, you will see a new source of comfort.
The family of Carolyn Lucuik, who had received care at the cancer centre before passing away earlier this year, donated a wonderful work of art in the St. Catharines woman's memory.
The flamed/acid-etched copper art, created by artist Adam Colangelo, Carolyn's son-in-law, was unveiled Friday, Oct. 24. Like Carolyn, Adam's work connects with people in a very special way. His art reflects a living, breathing landscape, both internal and external.
"It's not every day that you get to honour the memory of a loved one in such a special and lasting way, and for that we're very grateful," said Erin Lucuik, Carolyn's daughter and Adam's fiancee. "I feel like it's the least we could do for my mum, Carolyn, who was always concerned about the well being of others."
"My mum embraced life with a unique outlook. Time and time again, she'd tell my brother and I to live life with our glass half full. I believe it's this mantra that helped her live her life so selflessly," said Erin, a Toronto resident. "So, in contacting the Walker Family Cancer Centre and asking to donate a piece of artwork, we tried to take a page out of her book. We chose this location because it's where my mum would want to be, talking, helping, and most importantly, caring for other people."
NHS President Suzanne Johnston said she is very grateful to the family for the donation, which is a wonderful tribute to Carolyn. "The soothing power of Adam's artwork will be very comforting to our patients and their families. Carolyn's legacy and spirit will live on here and be an inspiration to other patients."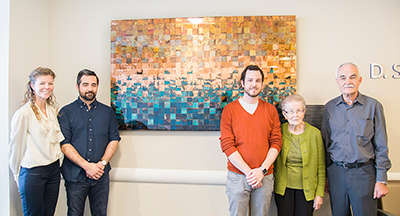 Carolyn Lucuik's family, Erin Lucuik (daughter), Adam Colangelo (son-in-law), Ian Lucuik (son), Lena Williams (Carolyn's mother) and David Lucuik (Carolyn's husband) stand in front of the work of art in the second-floor waiting room of the Walker Family Cancer Centre.