If you visit Star of the Sea Church in St. Catharines on a Tuesday morning, you're likely to find a group of women hard at work providing comfort to Niagara cancer patients. 
The group from the church's Catholic Women's League meets every Tuesday in the church hall to sew women's headwear, called turbans, for patients at Niagara Health System's Walker Family Cancer Centre.
The hats eventually find their way to the Walker Family Cancer Centre's Hat Room. The purpose of the Hat Room is to make sure every patient who experiences hair loss related to treatment has access to head coverings.
The Star of the Sea group recently reached the 1,000 mark for turbans donated to the Hat Room at the cancer centre at the NHS St. Catharines Site, which opened in March 2013.
Margaret Vinc, a member of the Catholic Women's League at Star of the Sea Church, says the group receives great satisfaction in knowing the hats are donated to a good cause.
"We do it as part of our works from the CWL (Catholic Women's League) in giving to the community and helping to make the women who are going through these treatments feel better about themselves," says Margaret.
The church group has been sewing hats for Niagara cancer patients since 1998. The sewing group was created by Liz Asselberg and Margaret Tice.
Margaret Vinc says the work is rewarding for a number of reasons.
"We enjoy being together and working," she says, as others in the group chime in with their agreement as they sew. "We're doing work that we enjoy but we're also enjoying each other's company, and helping other people out."
Niagara Health System is exceptionally grateful for the donations from groups like the one from Star of the Sea Church, says Charlene Duliban, Advance Practice Nurse and Patient Education Specialist at the Walker Family Cancer Centre.
"Head coverings bring many things to our patients besides the immediate physical need to protect our patients' sensitive scalps from the cold and sun," says Charlene. "They provide comfort, courage and confidence by letting them know that there are people out there who care about their journey and appreciate what they are going through."
The cancer centre stocks its Hat Room shelves with donations from several sources in the community. Donations of turbans, knit hats, commercially made hats and wigs are received from several sources. 
"We hope to add scarves to our inventory soon," Charlene adds. "Several hundred head coverings are provided to our patients each year. As we continue to treat more patients, our need for donations is also increasing."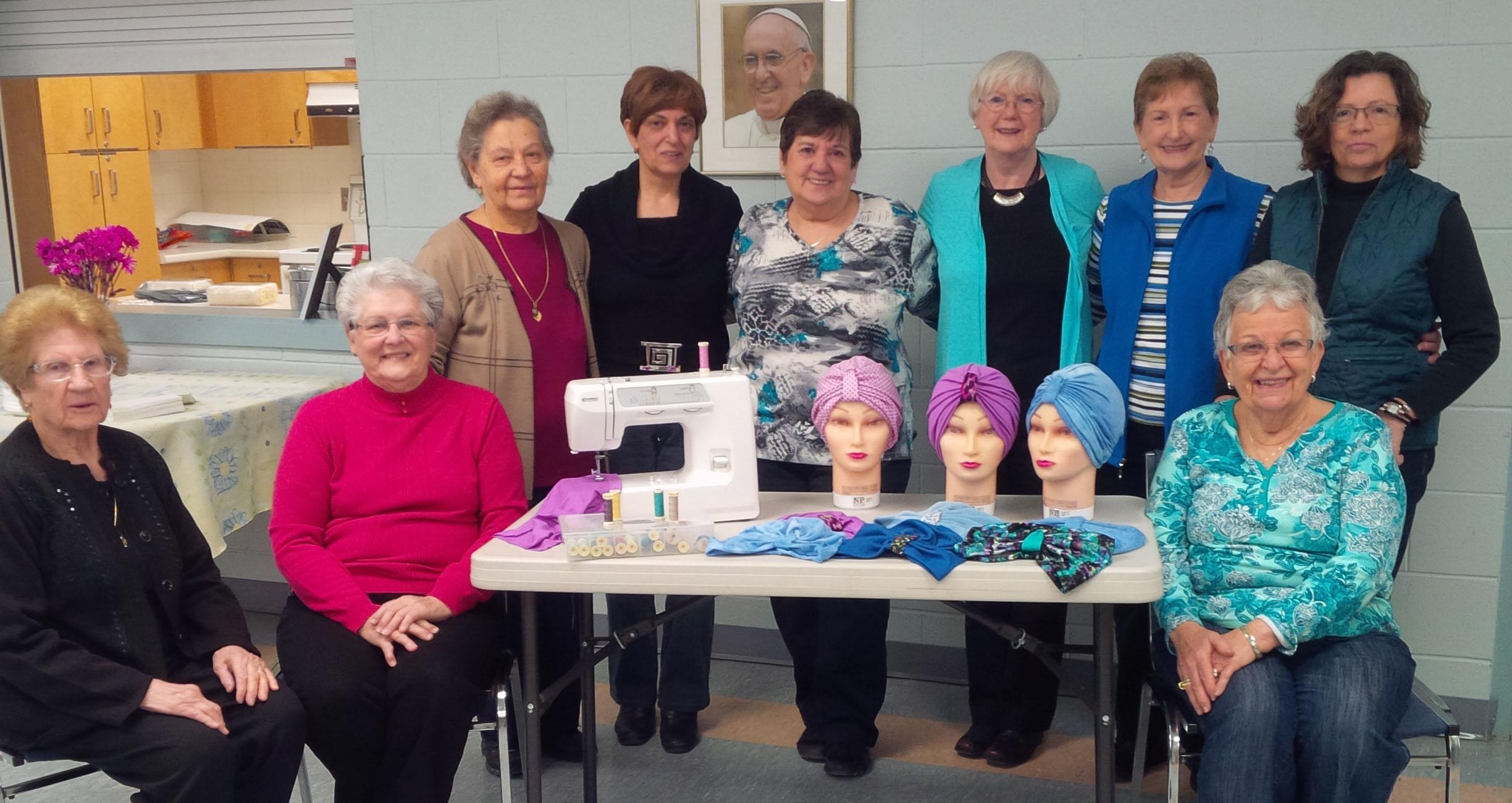 Members of the Star of the Sea Catholic Women's League include, from left, Teresa Montana, Stella Pawlik, Lina Ferrante, Teresa Ferrante, Nickie Stockwell, Margaret Vinc, Elsie Pavelko, Margaret Martin and Mary Mudrik.