A Communications Specialist whose contributions have been instrumental in building Niagara Health's new culture of extraordinary caring within our organization and in the community is the 2017 recipient of Niagara Health's top award.  
President's Award recipient Lisa Pepperall co-chaired Niagara Health's United Way committee and led the team to raise a record $75,470 for United Way through employee giving. She was instrumental in organizing Niagara Health's first ever hockey team to play a charity match for United Way at the Meridian Centre. This event brought people together from across our organization to make an impact in the community.
Lisa also recently took on a leadership role in organizing Niagara Health's Rankin Cancer Run team, encouraging staff, physicians and volunteers from across the organization to give back to the community by participating in this annual event that raises funds for cancer care in Niagara. A true team player, Lisa is always the first person to offer assistance to her colleagues in other departments. She enjoys looking for new ways to do things better and is a constant source of motivation for others.
"Lisa is someone who is truly driven by optimism. Her positive attitude is infectious and has inspired people from across Niagara Health to also extend care beyond our hospital walls," says Suzanne Johnston, Niagara Health President. "Lisa's efforts have made a tremendous impact on our community, and I am so proud to have her as a member of our team."
The Niagara Health Awards of Excellence recognize extraordinary service and performance within our organization consistent with our Purpose, Vision and Values. In addition to the President's Award, which recognizes overall outstanding performance, six additional awards were handed out to outstanding members of the Niagara Health team at last night's Awards of Excellence event. All of the recipients were nominated by their peers for demonstrating our CORE values (compassion, optimism and ambitious results) and providing extraordinary experiences to our patients and families in specific areas.
2017 AWARDS OF EXCELLENCE RECIPIENTS
Compassion in Action Award 
Douglas Brown | Port Colborne Site | Registered Practical Nurse
Driven by Optimism Award
Ellen Brochu | St. Catharines Site | Registered Nurse 
Achieving Ambitious Results Award 
Gary Gevaert |Information Communications Technology | Project Manager
Extraordinary Future through Innovation Award
Rachelle Doucet | Welland Site | Medical Transcriptionist
Extraordinary Team Award
Unit A Mental Health | St. Catharines Site 
Extraordinary Caring Award
Ronaldo Aperocho | St. Catharines Site | Health Care Aide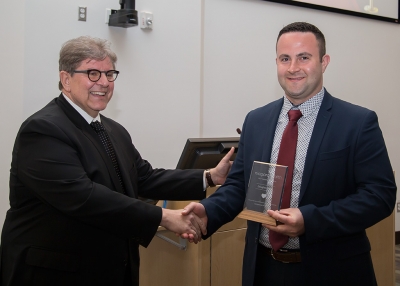 Media contact: Melissa Raftis, Communications Specialist | 905-378-4647 ex: 43872 melissa.raftis@niagarahealth.on.ca