A small act of kindness can have a big impact – especially during the holiday season.
Every year, Niagara Health team members and Volunteers look for ways to spread kindness and make the holidays a little brighter for patients. From delivering gifts, to caroling, to toy, food and clothing drives and fundraising campaigns – our teams find ways to add a little joy to the holiday season.
A few months ago, Jennifer Murray, Recreation Therapist was looking for a holiday-themed act of kindness activity for the Guiding Emotions Mindfully (GEM) Program, an Outpatient Mental Health Program held at our St. Catharines Site. The Program leads participants through activities that increase the frequency of positive emotion, such as performing acts of kindness. Participants complete acts of kindness in hospital and within the community, as a way to increase positive emotion and promote a greater state of physical and mental well-being. These types of activities are of particular focus around the holidays.
Jennifer crossed paths with Sherri Lemon, Volunteer Resources Coordinator, who suggested the idea of making cupcake socks - fuzzy socks wrapped in cupcake liners – as a gift that the Volunteers could deliver to patients. "I thought this would be the perfect way to make the holidays a little brighter for our patients," said Sherri.
Jennifer loved the idea but they both wondered where they would get the money to cover the cost of the supplies. "We thought we would start by seeing how many socks we could get donated, because that was the most costly part," Sherri said.  "We weren't sure how many we would get when we started."
Sherri shared the request for sock donations in the Niagara Health staff newsletter encouraging teams to donate socks as part of the Niagara Health Workplace Acts of Kindness Challenge, which has resulted in more than 19,000 acts of kindness since early 2017. "Socks just started appearing on my desk," Sherri exclaimed. "I'm not even sure where some of them came from. It was incredible."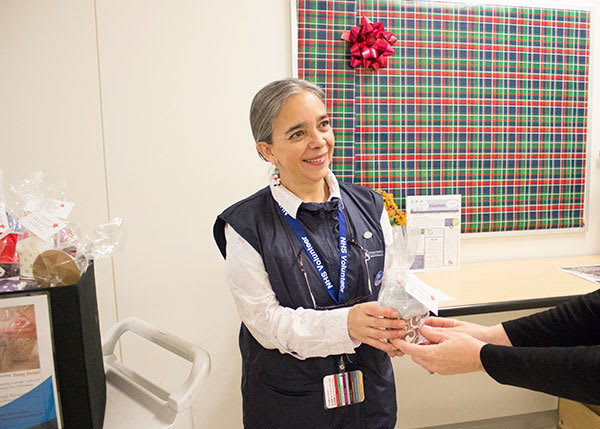 Volunteer Resources received 400 pairs of donated socks from nine departments across the organization. The cost of the other supplies – cupcake liners, chocolates, bags, ribbon and fabric paint to make the socks non-slip – were covered through money raised from the sale of Be Kind T-shirts, which staff purchased for Pink Shirt Day in February – a day to promote kindness and anti-bullying.
The GEM Program participants wrapped the 400 cupcake socks in record time and completed the task much faster than anticipated.  They loved doing it and felt so inspired by the project. "Many of them have been in the hospital over the holidays and knew how important this would be for our patients," said Jennifer. "They always appreciated the little extras that were done for them while they were here."
Niagara Health Volunteers are delivering the cupcake socks to patients during the last two weeks of December. They hope to keep this initiative going for other holidays.