March is Nutrition Month.
It's no secret that food has the potential to fuel our bodies, prevent chronic diseases, promote healing, and bring us together.
How you eat is vital to your health.
To mark Nutrition Month, we asked Niagara Health Clinical Dietitian Claire Chartrand to offer tips for healthy eating:
1. Plan meals using the balanced plate model. A healthy meal includes half a plate of vegetables and fruit, a ¼ plate of protein rich foods such as beans and lentils, nuts and seeds, fish, poultry, meat, tofu, eggs, and cheese, and a ¼ plate of starchy foods such as whole grain bread, rice, pasta, cereals, etc. Refer to the balanced plate model from the new Canada's Food Guide.
2. Drink water instead of sweetened beverages. Try adding lemon, lime, cucumber, mint or frozen fruit to water for more flavour.
3. Cook at home more often and pack lunches to take to work. This gives you more control over what you are eating.
4. Choose fresh foods more often than processed packaged foods.
5. Plan ahead to help make cooking more convenient and to save money
Choose a few recipes for the week (use cookbooks, online cooking blogs, cooking apps)
Make a grocery list of what you need
Prepare food in advance (For example, cut up fruits and vegetables, make marinades and dressings)
Cook in bulk so you have leftovers
Freeze leftovers for fast meals on busy days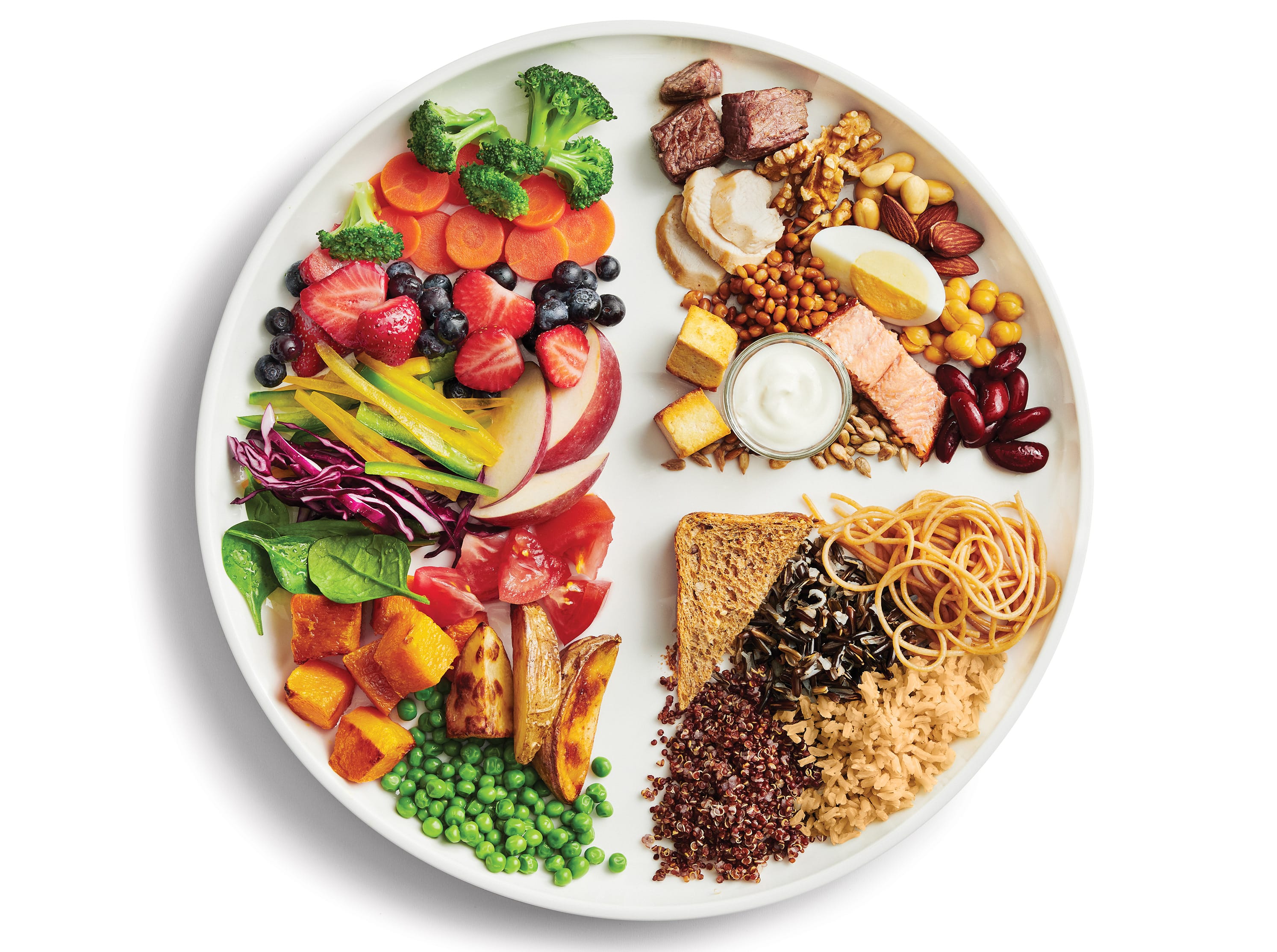 6. Listen to your hunger cues. Ask yourself: "Am I truly hungry, or am I eating because I am bored, tired or stressed?"
7. When possible, eat meals together as a family. If you have children, have them help you with meal planning, grocery shopping and cooking meals. Click here for tips on how to cook with kids.
8. Skip distracted eating. Avoid munching while looking at a screen, driving or working. You may eat more than you need if you're distracted from your feeling of fullness.
9. Keep a variety of healthy, ready-to-eat snacks on hand for when you get hungry. Being prepared helps you avoid less-healthy treats. See the "Potential to Fuel" from Dietitians of Canada for some healthy snack ideas.
10. When snacking, be aware of portion sizes. Instead of snacking from a large bag or box, take a portion and put it on a plate or bowl.