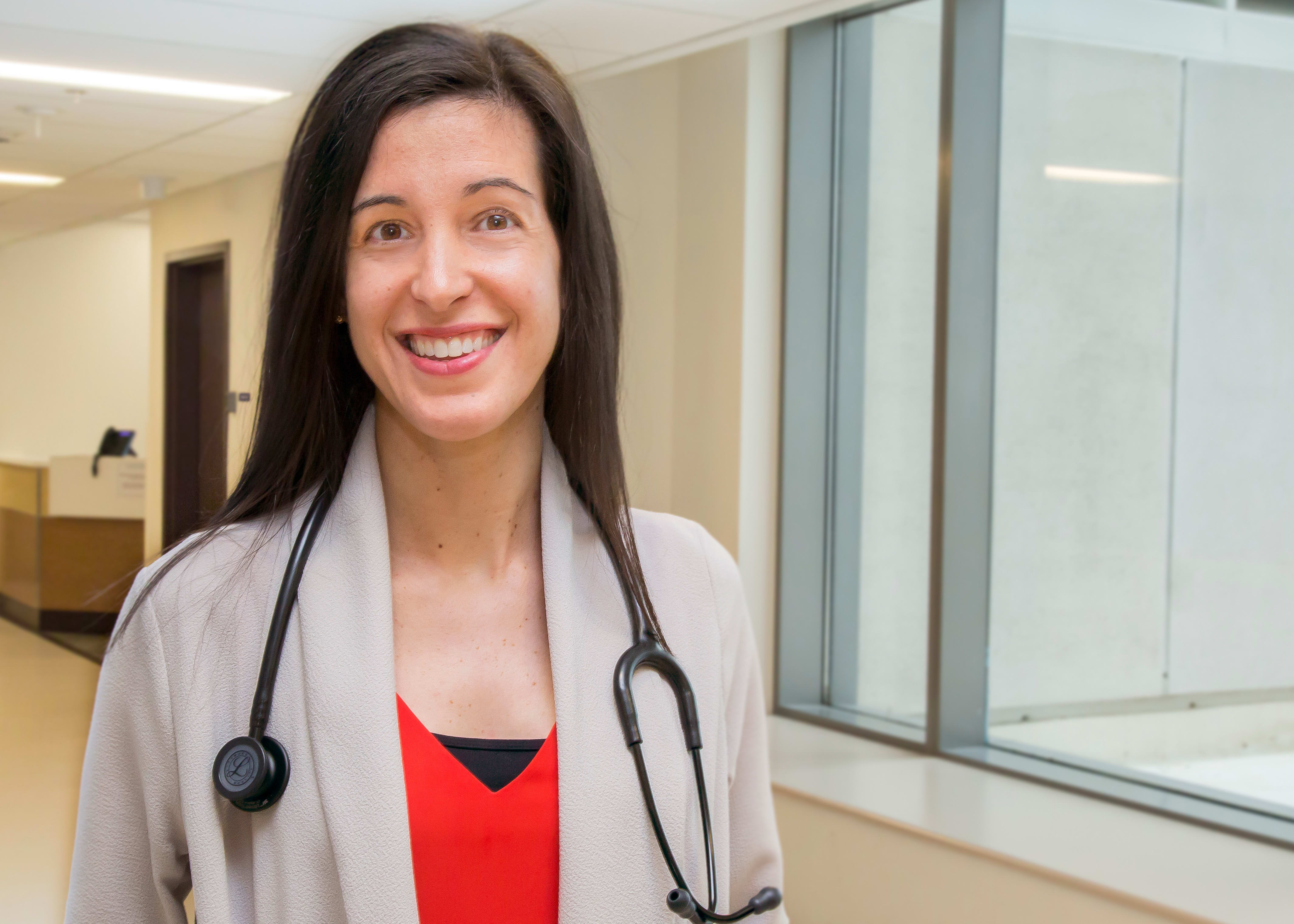 Looking back, Dr. Kathleen Quinn feels like she's come full circle with Niagara Health.
When she was in Grade 12 at Notre Dame high school in Welland, Kathleen won the hospital foundation's Dr. Ken Hope Memorial Book Award, given annually to students who show promise to pursue a career in healthcare.
Fast forward 14 years, and Kathleen is now a member of the Niagara Health team, having joined the Kidney Care Program as a Nephrologist in January.
"It's nice to come full circle, I reflect on that a lot," says Kathleen, who grew up in Fonthill. "It's nice to come home and give back to the community that supported me from the start."
Kathleen is one of more than 30 physicians Niagara Health has recruited over the past year. On May 1, Niagara Health is recognizing its more than 600 physicians on Doctors' Day and celebrating its continued success in recruiting specialists, like Kathleen, to the region.
Journey to become a physician
After high school, Kathleen entered the Health Sciences program at McMaster University in Hamilton. One summer, she volunteered in Niagara Health's Kidney Care Program, an area that intrigued her given the scientific research she had done previously on peritoneal dialysis.
She volunteered alongside Arden Gibson, a Charge Nurse of peritoneal dialysis, joining her on appointments to patients' homes and at the hospital.
"Arden took me under her wing. I loved the experience," she says. "It's when I became drawn to medicine. I was able to see the real patient experience and the multi-disciplinary work involved in caring for dialysis patients. I saw the relationships that the physicians and nurses had with the patients. I knew I wanted to do that."
Kathleen set off on a path to fulfill her goal.
She earned her Bachelor of Health Sciences in 2009, followed by a Medical Degree from McMaster's Michael G. DeGroote School of Medicine in 2012. She completed an Internal Medicine Residency at McMaster and acquired additional Fellowship training in Nephrology from Western University in London. She obtained the Royal College of Physicians Fellowship in Nephrology in 2017 and a Fellowship in multi-organ transplant at Western University in 2018.
Returning to Niagara to work as a physician is special for Kathleen.
"It feels nice to return home to the place that set me up with all of these opportunities," says Kathleen, who lives in Fonthill with her husband and their one-year-old son. "My family support system is incredible here. I have everyone that I need close to home."
In her short time at Niagara Health, she's been impressed with the multi-disciplinary approach in the Kidney Care Program.
"It's been really good to care for patients with the dietitians, the nurse navigators, the dialysis nurses, the pharmacists. The attention to patient care is excellent in the multi-disciplinary setting. When patients have complex needs, you need to have a team around them that can focus on their different needs, and who can work together and communicate with each other in order to provide the best care for the patient."
While returning home was a big draw for Kathleen, the opportunity to work in an organization that has had strong success in physician recruitment was also appealing.
"There are a lot of new specialists who have come on who are enthusiastic about their work. And the collaborative atmosphere that we have here between services is one of the huge draws of joining Niagara Health. When you can work easily with other services, your day is so much more enjoyable and the patient care flows so much easier."
Learn more about the Dr. Ken Hope Memorial Book Award and other scholarship opportunities provided through Niagara Health Foundation here.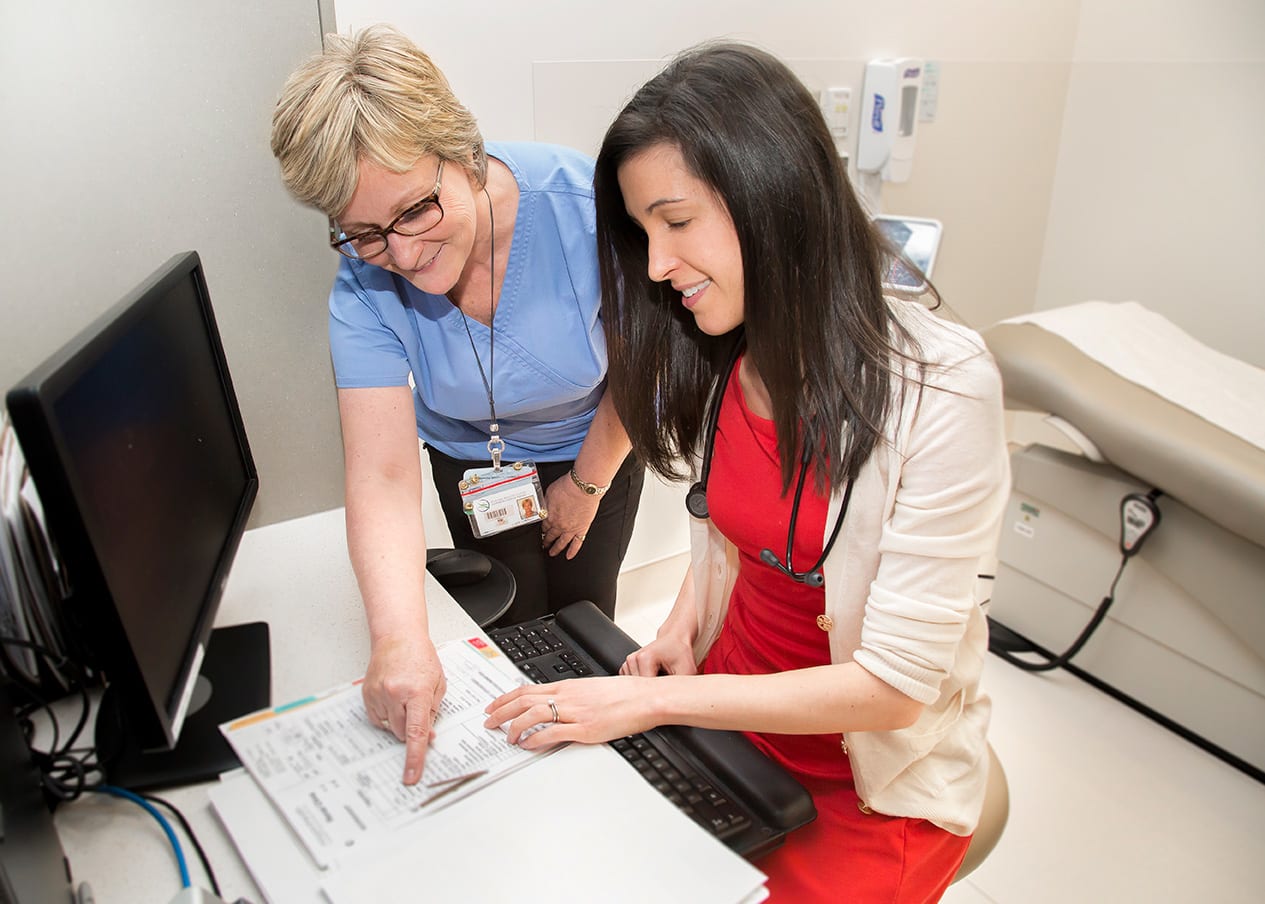 Dr. Kathleen Quinn with Charge Nurse Arden Gibson. Kathleen volunteered with Arden one summer during university.