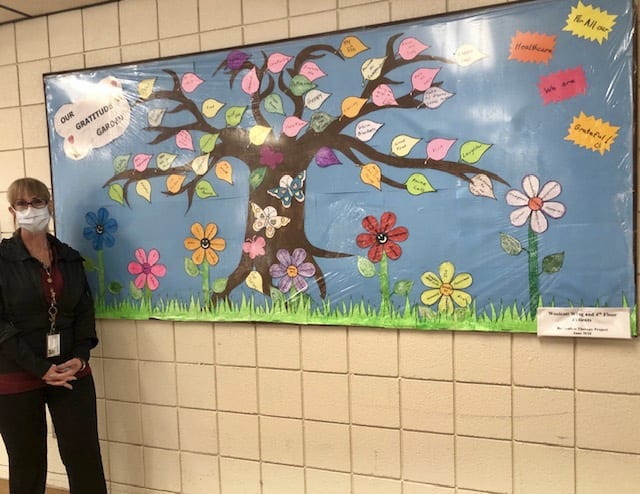 Hearing patients express gratitude for the care provided by the Niagara Health team during the pandemic planted a seed in Michelle Szabo's head.
During her visits with patients as a Recreation Therapist at our Welland Site, Michelle is often told how much they appreciate the healthcare team, especially during this challenging time.
Michelle wanted to find a way to convey those messages to the healthcare team and create a recreational activity for patients on the Woolcott Wing Complex Care Unit and the Fourth Floor medical unit, where she works with fellow Recreation Therapist Cindy Pinelli.
She decided to plant a Gratitude Garden. Not an actual garden, but one that could be posted to a wall so the NH team and patients could see the blossoming gratitude.
Patients helped to draw the garden, which features a tree, butterflies, flowers and grass. They also wrote on leaves what they are grateful for, including Super People, Good Healthcare, Kindness and Jokes, which are now growing on the tree.
"They are messages from patients expressing their gratitude for their care, especially during COVID," says Michelle. "Staff are doing so many extra things with families and friends not able to visit, like connecting patients with their loved ones through FaceTime and telephone calls, and window visits.
"We've also heard from families about how grateful they are that they can have communication with their loved ones, even though they cannot physically be here, and how we find other ways to make that happen."
Michelle said it was very meaningful for her to see the Gratitude Garden planted in early June on a wall outside the Woolcott Wing. She also knows it means a lot to the Niagara Health team.
"It was a huge sense of accomplishment and pride because it looks so good, bright and cheery," she says. "As (they) were putting it up, many staff were very thankful and said, 'Wow, how nice is that?' It brings smiles to people's faces. It was what I wanted to see because smiles are contagious and makes us all feel better, which is our goal as healthcare provides."