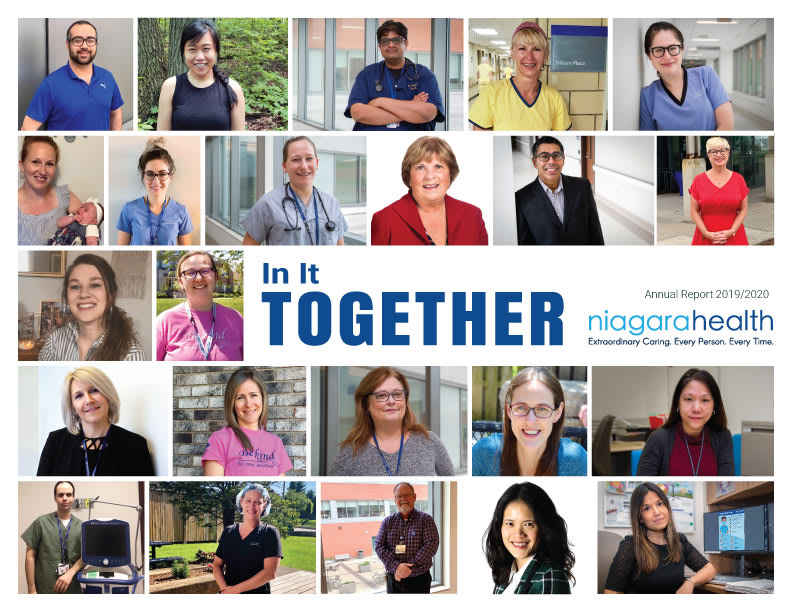 It has been a year like no other at Niagara Health.
We experienced significant achievements that have enhanced healthcare in the region; and then our healthcare system was tested like never before with the arrival of COVID-19.
Truly remarkable during this challenging and uncertain time has been the unwavering commitment of our teams to pull together and continue to provide the best and safest care to our patients, working closely with our partners in Niagara and beyond.
That is why we chose the theme In It Together for our 2019-2020 Annual Report, which was released today at our Annual General Meeting.
The Annual Report shines a spotlight on the work of the Niagara Health team in our response to COVID-19 and our many accomplishments throughout the year that are supporting the delivery of safe, quality healthcare in Niagara. The report also shows how we continue to make strong connections through partnerships, technology and our planning for the future.
Here are some other proud moments featured in the annual report:
We continue to make great progress in our planning for the South Niagara Hospital. Engagement of our community, staff and physicians remains a priority in helping to shape this planning.
We were accredited with exemplary standing for the second consecutive time and achieved national recognition for a record number of leading practices among hospitals in Canada.
We are seeing continued growth in medical research. Research and clinical trials are happening in a wide range of our programs, and our teams are participating in research related to COVID-19.
Our Niagara Health Navigator app is revolutionizing the way patients connect to healthcare information and their care providers. Future releases will provide users with easy access to their health information and connect patients and families with their team of providers.
The report, which can be read here, is presented in an interactive format. We encourage you to click on each photo or headline for more content.
Welcoming our new Board Chair
Our Annual General Meeting, which was held virtually, also saw the appointment of Bunny Alexander to Chair of our Board of Directors.
Ms. Alexander, who has served as the Board's Vice Chair the past two years, has a deep well of experience and expertise in healthcare. She has worked as a registered nurse, a clinical manager at the Welland Site prior to the amalgamation of Niagara Health and in human resources. More recently, she has held numerous volunteer positions, and has served as Vice-Chair of the Hamilton Niagara Haldimand Brant Community Care Access Centre Board of Directors.
John Bragagnolo, who is leaving the Board, has spent the past two years serving as Chair. Mr. Bragagnolo joined the Niagara Health Board of Directors in 2013. His leadership has been instrumental in supporting NH in its evolution into a nationally recognized leader in quality, safety, and innovation in healthcare. During his time as Chair of the Board, Niagara Health earned Accreditation with Exemplary Standing for the second consecutive time – the highest possible accreditation result.
Under Mr. Bragagnolo's leadership, the Board recruited and successfully integrated five new members dedicated to supporting local healthcare. Among his other contributions as Chair, Mr. Bragagnolo was passionate about seeing our 10-year strategic plan succeed and our vision of a healthier Niagara come to life.
Along with Niagara Health CEO, Dr. Tom Stewart, Mr. Bragagnolo co-chaired the search committee that led to the unanimous selection of NH's new President, Lynn Guerriero. 
Quotes:
"I want to recognize and thank the hard working and compassionate people who make up Niagara Health and who do extraordinary work every day providing patients and families with high-quality care," says Mr. Bragagnolo. "Being a part of this organization - this family - has meant so much to me and I wish Bunny and the Board much success as they continue supporting the incredible things happening at Niagara Health."
"I would like to thank John for his steady leadership and tremendous vision in our journey to create a healthier Niagara," says Ms. Alexander, who has served on the Board since 2013. "It is an honour to be appointed to this role and work with the dedicated team of staff, physicians, volunteers and learners at Niagara Health. I am confident we will build on the successes of our previous boards and continue to make progress in achieving our vision."
"I am proud of our advancements in care, in what has been another extraordinary year at Niagara Health, and how our team has gone above and beyond working with our partners and the community to provide high-quality care during the pandemic," says Niagara Health CEO Dr. Tom Stewart. "We continue to see great collaboration with our partners in many other areas, which is vital to creating a stronger, more integrated healthcare system."
"Healthcare is constantly evolving and our team has always excelled in being flexible and adaptable to change, which has never been more important than this year," says Niagara Health President Lynn Guerriero, who joined the Niagara Health team in February. "On a personal note, I have felt so welcome since moving to Niagara and assuming my new role. I want to thank the Board of Directors, the entire Niagara Health team and our many community partners for their support and their work to improve the health and wellbeing of Niagara residents."