This is part of a series of stories profiling members of the Niagara Health team and the work they are doing as part of our response to the COVID-19 pandemic. Meet Tracey Giovannone, Manager Recruitment and Volunteer Services, and Emile Penner-Cloutier, Manager Organizational Development.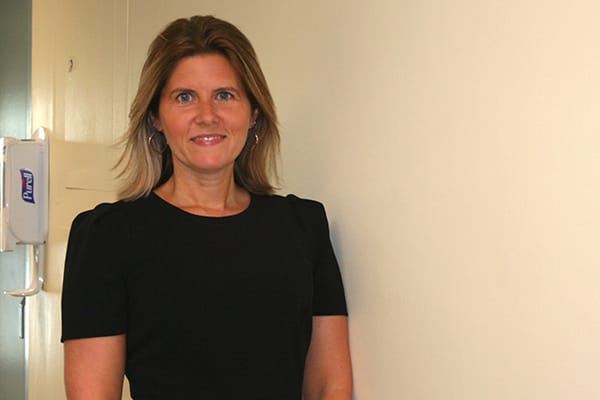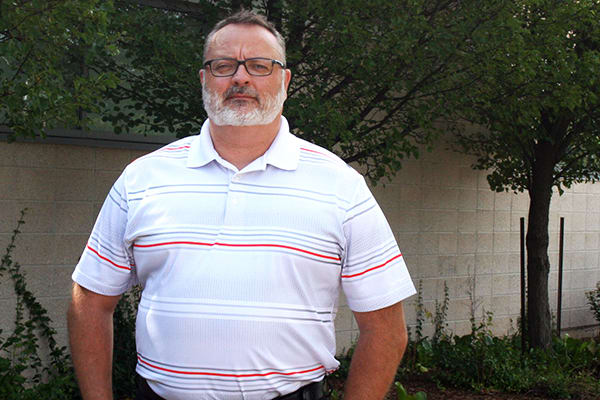 When the COVID-19 pandemic began and changes had to be made quickly, Tracey Giovannone, Manager Recruitment and Volunteer Services, and Emile Penner-Cloutier, Manager Organizational Development, worked closely together to make sure the work got done and supported one another every step of the way.
Chances are, you're familiar with many of the processes developed by Tracey, Emile and their teams, which include staff and physician screening, as well as patient and visitor screening. Both Tracey and Emile credit their success to the immense collaboration that took place between departments across Niagara Health.
"Tracey and Emile have worked tirelessly throughout the pandemic, often working long hours and filling in available screening shifts when needed," says Flo Paladino, Executive Vice-President, People and Organizational Development. "They have supported the organization in many ways outside of their regular roles and responsibilities, and have both been instrumental in our pandemic response."
Truly in it together, Tracey and Emile have leaned on one another throughout COVID-19, picking up where they could when the other wasn't available.  This makes it fitting that they be the first pair profiled as part of our In It Together series.
What's the biggest change to the function of your teams due to the pandemic?
Tracey:
One of the biggest changes was putting our volunteer services on hold and redeploying our Volunteer Coordinators to patient and visitor screening. They had a critical role in getting this process up and running quickly – ensuring patients were able to safely enter our sites.
In Recruitment, we had to develop a rapid hiring and onboarding process to support the human resources needs of patient and visitor, as well as staff and physician screening.
Emile:
Before the pandemic, our work was mainly project based, achieving or supporting corporate initiatives. When the pandemic started, we had to shift our focus to support COVID initiatives. This included some team members being redeployed to other areas.
One of our priorities was, and continues to be, staff and physician screening. We were focused on  determining the most appropriate way to get team members in and out of our sites in a safe way, being mindful of physical distancing and other important infection prevention and control measures. We also had to make sure there were processes that worked for all of our sites.
What's the most challenging part about working during the pandemic?
In the beginning, everything happened so quickly that we had to work with the best information we had at the time. It was difficult at times to keep up with rapidly changing information. We also had to make sure that we had the right people at the decision-making table to ensure any new process would work for all areas – both clinical and non-clinical – across our sites.
Then once the staff and patient screening were in place, we also had to ensure that we were clearly communicating any changes to this process to the screeners, who were on the frontline doing the work.
We also had to work with many different departments, including Scheduling, Infection Prevention and Control, Maintenance, Occupational Health and Safety and Purchasing, to make sure we had screeners in place and that they had everything they needed to be safe.
It was also important to work with staff who were redeployed – making sure they still felt valued and understood that they were contributing in meaningful ways.
How are you finding the transition process to our 'new normal'?
Tracey:
We haven't really transitioned to a new normal, as we are still actively supporting patient and visitor screening.  Essentially, we created a whole new department for screening. We need to maintain this process; however, at the same time, many employees are now going back to their normal roles and we have to make sure that transition is successful. We also hired almost 60 new employees to support screening, and we have to ensure they are successful in their roles, despite the quick onboarding process.
Emile:
At first, we focused almost solely on COVID priorities, but then we slowly started shifting to a 'new normal'. We were navigating between two worlds – I had to look at what the restart looked like for us and what I needed to do for my team members to get there – while also maintaining important COVID initiatives and making them part of our culture.
Are there any lessons you and your teams have learned from the pandemic?
Tracey:
We learned how to work from anywhere. In a way, the pandemic forced us into using technology more than we were used to. However, this created efficient processes that we will continue to use going forward. This includes virtual onboarding, as well as rapid onboarding, should we need to bring new employees on quickly again.
Emile:
For sure, I now realize we can work at any time and in any location. We had explored working remotely in the past, but the pandemic solidified our work-from-home process. We now know how we can communicate with the organization while being remote.
We also saw increased collaboration from many different departments across the organization that in the past hadn't worked that closely. Having a wide variety of perspectives while making decisions led to better outcomes – and I think we all took that as a lesson and will continue working more closely going forward.
How have your teams performed during the pandemic?
Tracey:
My recruitment team worked hard to make sure the organization had the people and resources needed to continue providing amazing care to our patients. For our Volunteer Coordinators, they had to recreate their roles – tackling tasks that hadn't been done before in the organization. They did so exceptionally well.
Emile:
As mentioned, the priorities of my team shifted quickly at the onset of the pandemic. My entire team stepped up to the plate and focused entirely on pandemic priorities, making sure this important work got done quickly and was done well. They were all locked in and ready to support the organization.
How do you wind down after work?
Tracey:
In the beginning, I was just focused on getting everything done. Now I am able to refocus – taking time to relax and going for walks often. 
Emile and I relied on each other throughout this entire situation. It was nice to have someone to lean on when I was having an off day and vice-versa.
Emile:
In the beginning, it was important for me to connect with family and catch up on sleep where possible. I also enjoy playing the guitar in my off time. It was also important that I touched base with members of my team – making sure they were okay.