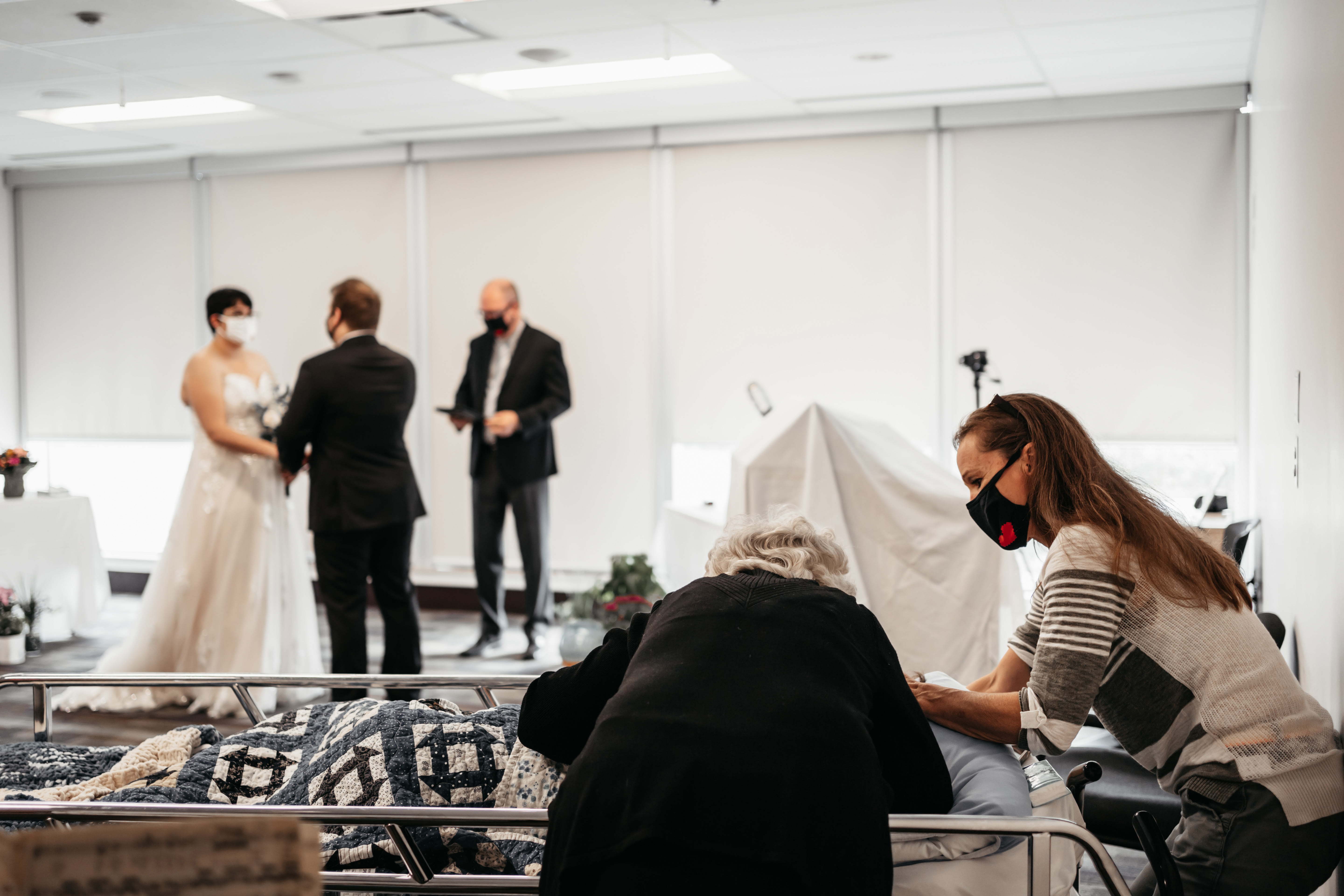 It was a mother's wish fulfilled.
In early October, inside a meeting room at the Walker Family Cancer Centre, Lisa watched her daughter, Marlena, wed her partner, Brandon.
Just a few days earlier, Lisa and her family were told she had only a short time to live. Lisa, a patient in the Oncology unit at Niagara Health's St. Catharines Site, was suffering from an aggressive form of cancer.
Together for seven years, Marlena and Brandon knew one day they would get married, with Lisa looking on. The sad news prompted them to quickly arrange a wedding so Lisa could be part of their special day.
"My mom was very traditional, so she wanted my husband to ask her for my hand in marriage," says Marlena.
Brandon headed to the hospital and did just that. Then he proposed to Marlena in the hospital elevator.
"He got down on one knee and asked if I would marry him, and, of course, my answer was yes."
Marlena reached out to her mom's Oncologist, Dr. Mithula Tharmabala, who said the cancer centre team would be honoured to help plan her wedding. The team chose a conference room for the ceremony and decorated it beautifully. A member of the Niagara Health Foundation team, who is also a photographer, offered to capture images of the special day.
Marlena's friend, who is a minister, agreed to officiate the wedding, which was limited to 10 people because of pandemic safety restrictions.
Marlena shopped for a dress at a St. Catharines bridal shop, and her mother was able to see them all through video chat from her hospital room.
"When I walked out with one dress, she started crying, so we knew that was the dress," she says.
Marlena was grateful her mother was able to see her marry Brandon.
"She was such a big part of both of our lives. For me to be able to get married with her being there was such a bitter-sweet thing. Being able to have her with us during the ceremony meant everything to us. I couldn't have imagined having a wedding without her."
Marlena said she was touched by the compassion of the Niagara Health team to help plan the wedding.
"I wouldn't be able to have a wedding with my mom there if it wasn't for them. Being able to have that memory and the fact we have the pictures is amazing. We didn't even think of having a photographer. They handled everything for us. Every step of the way, whatever we needed, they were there for us. And they were there for my mom because they knew that, not only was this important to me and my husband, it was important for my mom to be there. People keep telling me how happy my mom was to have that opportunity."
Sadly, Lisa passed away two weeks after the wedding.
Marlena said her mom was an incredibly kind and caring person.
"My mom was kind and generous. She was very modest. She taught me to be very generous. She was a single mom who raised us by herself. She was my role model. She was a very strong and independent woman."