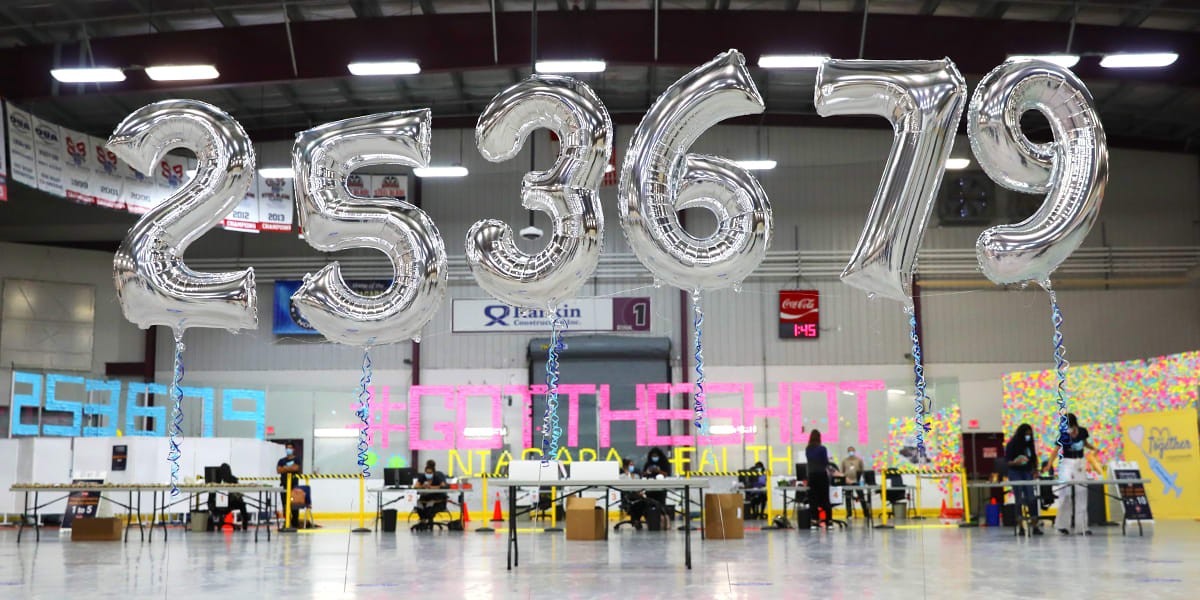 Today Niagara Health completed its final day at the Seymour-Hannah mass vaccination clinic. In total, Niagara Health has administered 253, 679 doses of the COVID-19 vaccine to Niagara residents – almost 40 per cent of all doses given in the region.
A new smaller clinic will open at the St. Catharines Site on Tuesday, Aug. 17.
"So many people have been involved in the success of this vaccination clinic," says Lynn Guerriero, President and CEO at Niagara Health. "I'm very proud of our staff and physicians for working so hard to care for our patients and loved ones at the clinic and in the hospital during these challenging times.
"I'd also like to thank our partners for all they have done in our work together to vaccinate Niagara and also to make this such a special place in the community. There are thousands of sticky notes lining the arena walls, and reading our patients' messages about what getting vaccinated means to them is so powerful."
Niagara Health opened the region's first COVID-19 vaccination clinic at our St. Catharines Site in January and moved to the Seymour-Hannah arena in mid-February. The larger space allowed us to triple our capacity and immunize more than 1,000 people per day. The clinic team fine-tuned the operations, and reached more than 2,600 daily doses on July 15.
"As we prepare to open the new clinic on Tuesday, getting as many people in our community vaccinated remains a priority to keep everyone safe and move beyond the pandemic," says Linda Boich, Executive Vice President, Quality, and Mental Health and Addictions, Executive Lead, Integrated Care and Executive Lead, Niagara COVID-19 Vaccination Task Force. "The new clinic can serve approximately 200 patients a day and will be open seven days a week from 8 a.m. to 4 p.m. for walk-in and booked appointments."
The entrance to the St. Catharines Site vaccination clinic will be located behind the Walker Family Cancer Centre. The clinic has a dedicated entrance off First Street Louth. Parking in this area is free for those coming to get vaccinated.
"As we close the doors at the clinic today and return the space to the City of St. Catharines, we'd like to express our appreciation to Mayor Walter Sendzik and the City for the partnership and use of the arena for the past six months," says Lynn.