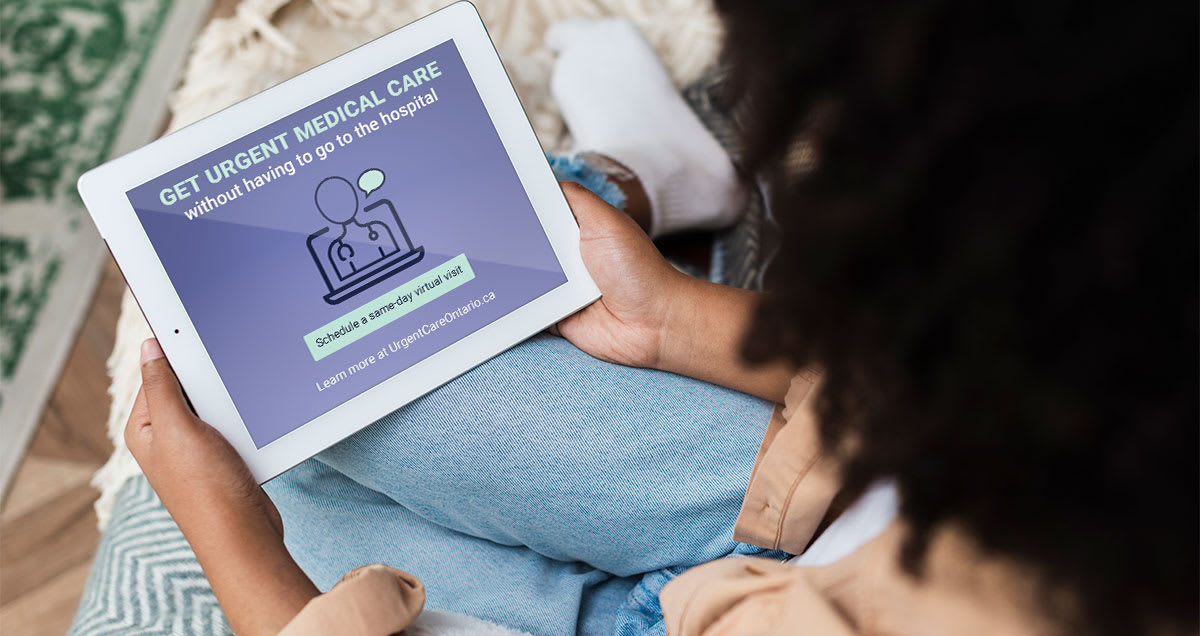 Improving access to urgent medical care for patients who cannot see a primary care provider
Niagara residents who need urgent care but don't have access to a primary care provider can now book an appointment online to see a Niagara Health provider from the comfort of their home.
This new local service is for adults who have an urgent medical issue or health concern that is not life-threatening and who do not have a primary care provider or cannot make an appointment with their primary care provider.
"Our goal is to give patients a convenient and safe new option to seek care for nausea, infections, minor COVID-19 symptoms and other non-emergency injuries or illnesses," says Dr. Shira Brown, Deputy Chief of Emergency Medicine in South Niagara. "Patients can make a same-day appointment, and through secure video, our health care providers will diagnose, recommend treatment, write prescriptions and co-ordinate referrals to specialists and community providers in Niagara."
This service provides a new health care option in the region that is seamlessly integrated with in-person urgent care at Niagara Health. During the virtual visit, health care providers will assess the patient's condition and recommend treatment. If patients feel a physical examination is necessary, they should contact their primary care provider. If no such relationship exists, on an urgent basis, patients may be directed to the closest Emergency Department, where they will continue their visit without the need to repeat their situation.
"This new virtual urgent care service makes it easier and more accessible for patients to navigate the health care system," says Hedy McGarrell, one of Niagara Health's Patient Partners and a member of Niagara Health's Virtual Urgent Care Task Force, a cross-functional group of stakeholders who helped design the service. "While anyone can take advantage of virtual care, this service is especially beneficial for Niagara residents who may not have a primary care provider, and it allows patients to make a virtual urgent appointment on their phone, tablet or computer."
This initiative received operational funding from the Government of Ontario to enhance their pandemic response and recovery plan through appropriate virtual care options, which are key to ensuring continuity of health services. Niagara Virtual Urgent Care is a partnership with the Niagara Ontario Health Team - Équipe Santé Ontario Niagara (NOHT-ESON).
Appointments are available on a first-come, first-serve basis, Monday to Friday from 9 a.m. to 4:30 p.m.
To make an appointment, visit UrgentCareOntario.ca
Learn how to find a primary care provider at Ontario.ca/healthcareconnect
QUOTES
"Our government is proud to support this new virtual urgent care service that will provide residents of the Niagara Region with another way to access care. Ontario is building a stronger, more resilient health care system that is focused on meeting the needs of patients."
Christine Elliott, Deputy Premier and Minister of Health
"Thank you to Niagara Ontario Health Team - Équipe Santé Ontario Niagara and Niagara Health for delivering this innovative care service to Niagara residents, and to the Provincial Government for its support. Especially over the last two years, my constituents have seen the importance of expanding virtual care, and this announcement is an exciting step in that direction."
Sam Oosterhoff, MPP, Niagara West
"We're excited to use technology in this innovative way to provide Niagara residents with another option for accessing urgent healthcare. There has been exponential growth in virtual care, and we are pleased to offer another option to residents as a way to receive care."
Lynn Guerriero, President and CEO, Niagara Health