We are Niagara Health is a series of stories that celebrates the incredible people working and volunteering in our organization and how they make a difference in the lives of patients and coworkers every day.
Patty Welychka's career, starting in 1976, has always been about doing the right thing – for patients and the people with whom she works.
It was 1974 when the future Niagara Health Director of Clinical Services for Surgery and Executive Lead, Chief Nursing Officer for our Welland and Port Colborne sites graduated high school with thoughts of becoming a teacher before a guidance counsellor changed her mind.
"She said 'Oh gosh, you're a nurse inside and out,'" Patty recalls. "I said 'How do you know?' (She said) 'Just by your mannerisms, just by the way you care for people.' "
After nearly 46 years of caring for people in a career that has evolved with the profession of nursing, Patty retires this month.
Back in 1974, she applied to three nursing schools, got accepted to each one, and "never looked back" when she enrolled at The Mack School of Nursing, which had a campus in St. Catharines.
She graduated in 1976, landing her first job at in Welland in an era of starched white dresses, caps, and polished shoes that were inspected each day.
Everything was regimented, she recalls. Charge nurses joined the doctor or surgeon on rounds, pushing a cart with patient files and documenting every assessment.
These days, nurses and doctors work more independently but with the same collaborative practice in the name of patient care.
Still, it's a model of care – along with the many incarnations in between – that Patty embraced because providing extraordinary care was always the driver.
"I'm a firm believer in change," she says. "As the technology changes, as the treatments change, as the dynamics around the hospital change and roles evolve, it's always been for improved patient care."
But the biggest transformation might have been to nursing itself.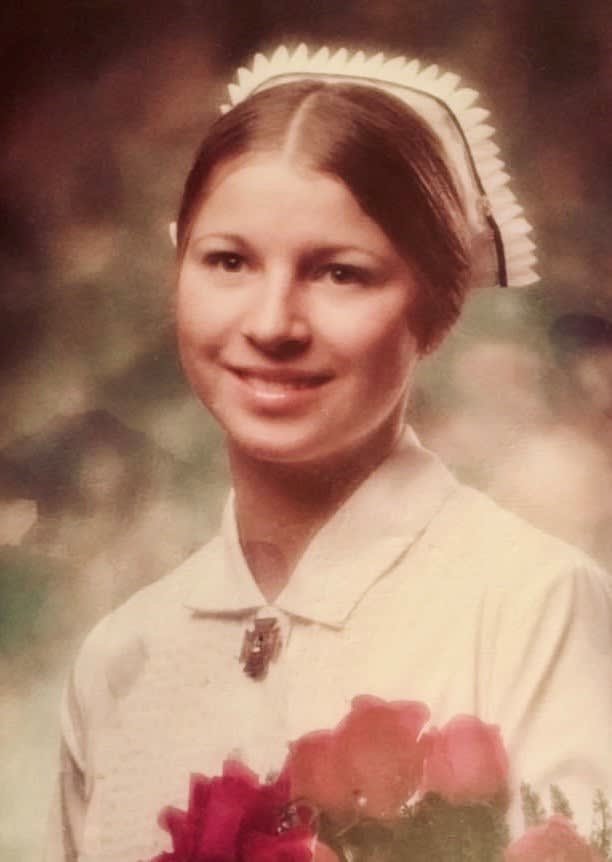 Patty Welychka's graduation photo from the Mack School of Nursing in 1976.
As a registered nurse (RN) in 1976, Patty was on the frontlines of patient care, helping with bathing, administering medications, doing catheterization and wound care, among a long list of other duties.

By the mid-1990s, the nursing profession shifted to a more holistic approach to care that went beyond the bedside, including a greater focus on supporting patients with their overall care planning. Discharge planning took on a case management approach to help patients transition from hospital to home or another healthcare facility. It was a transition Patty helped facilitate in Welland.

Her first leadership position was as a nursing administration co-ordinator, liaising with department mangers to see where they needed support, ensuring proper staffing levels, engaging with patient relations issues and doing "everything operational."

She still donned the starched dress and cap, ready to jump into any hands-on patient care as needed. But a few years later, those formal uniforms gave way to scrubs, or in Patty's case, business attire for the many roles with increasing administrative responsibility that she willingly took on.

"The more knowledge I had about health systems, the more energized I was to learn," Patty says. "Even though I wasn't at the bedside anymore, I knew these innovative, new programs still benefited the patient."

Working across multiple programs, including surgery, critical care and women and babies, Patty was able to gain a strong clinical background, which built the foundation for a very successful career as a healthcare leader.

Over the past 15 years, Patty has been the driving force behind the surgical program, leading many key strategies with professionalism, humour and resilience; her accomplishments include the consolidation of services, the implementation of the surgical internship program, and NH's successful partnership with the National Surgical Quality Improvement Program. 

"She is a passionate nurse, principled leader, a role model and a mentor to many across the organization," says Heather Paterson, Interim Executive Vice-President, Clinical Services and Chief Nursing Executive. "The impact she has left on healthcare in Niagara is extraordinary and the legacy she leaves is truly remarkable."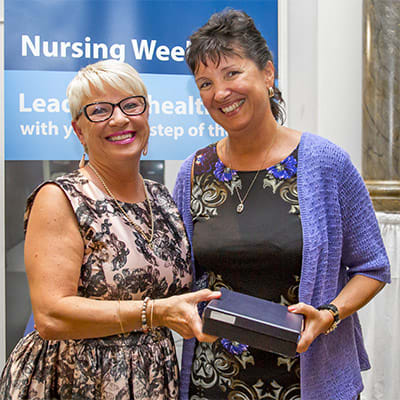 Patty Welychka (left) is presented with the Nursing Lifetime Achievement award from Niagara Health colleague Debbie Smith. 
But there were moments that stand out more than others, like when the Welland team won a Health Care Quality Team Award from the Conference Board of Canada. Presenting a paper on computerized nursing and order entry in Sweden also tops the list. So does enrolling in the Executive Healthcare Leadership course at the Rotman School of Management, which included an international exchange to London, England, to study at The King's Fund think tank and Chelsea Westminster Health System.

Blessed with her four grandchildren born at Niagara Health sites; receiving an Extraordinary Team Award in 2019 as part of a patient flow team that included her daughter, Jennifer Pratt, a social worker at the Welland Site, her successor Jae Sonke, Carol Eaton, Shauna Speck and Tiffany Coy; and being presented the Nursing Lifetime Achievement Award last year are also key career moments.

Nothing was like the past two years, however, even with the trials of other challenging times, including the SARS and H1N1 pandemics and the Ebola virus epidemic.

True to her commitment to healthcare and her team, Patty delayed her retirement to help her team through the six waves of the pandemic and the impact it's had on surgical services.

"I'm confident we did everything the right way to provide our patients with safe, quality healthcare," Patty says.

She's just as confident she couldn't have gotten through any of the past 45 years, including her transition to retirement, without the help of others. Looking back, she says there's nothing she would change about a career she describes as both fabulous and perfect.

"It's the people I've been here with, the teams, the support, really," Patty says. "I'd be nothing without these fabulous colleagues."