Overcoming is a series of stories about our patients and their remarkable healthcare journeys.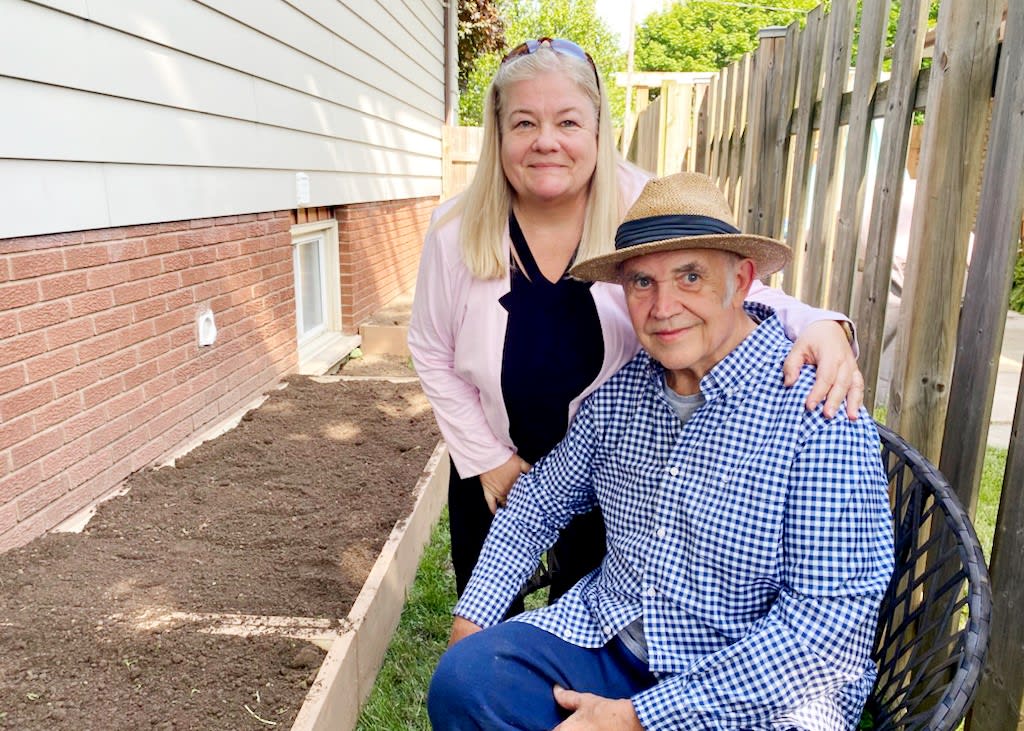 Denise and Donald Kennedy in the garden of their St. Catharines home. Donald spent nearly three months in hospital recovering from COVID-19. The couple are now part of a national study aimed at better understanding both short- and long-term outcomes of the illness in patients and their caregivers, and predictors of those outcomes.
It was a milestone moment when Donald Kennedy began working in his garden this spring.
The St. Catharines man had been home from hospital only a few weeks after nearly three months of being treated for COVID-19, including two months in the ICU, when he started planting for the season in mid-May.
Though he's not yet fully recovered, Donald, 71, and his wife Denise, are counting the plants in the ground, the meals Donald has barbecued, and the steps he's taken in his house without assistance as encouraging signs.
They're a continuation of a positive trajectory that started with the care he received at Niagara Health, including when Denise couldn't be at his bedside until Donald finally tested negative for COVID-19.
"The doctors who called me and the nurses who called me when things were not good, they were my lifeline. They were wonderful," Denise says. "The care we got in the ICU was very good and once I was able to be there from 10 in the morning until nine at night, I saw how they responded to everything and tried to help."
Ask Donald, and he'll tell you he's doing "pretty good, OK" now, his voice still raspy and weak from a tracheostomy he needed because of his prolonged use of a ventilator in hospital.
"Pretty good, OK" has been a long time coming, starting in early January when the couple returned from Christmas holidays in Florida, where their son lives.
A few days after getting home, Denise didn't feel like herself. She figured she was overtired from the trip, though in hindsight, she wonders if her fatigue wasn't COIVD-19, too. She felt fine a few days later but that's when Donald started to take a turn for the worse.
He developed a cough that went from tolerable to non-stop, making it difficult to catch his breath. Still not suspecting COVID-19, Denise took Donald to the Emergency Department at the St. Catharines Site. Donald was immediately provided with oxygen and admitted soon after.
Two days later, Denise got a phone call that he was being transferred to ICU with severe COVID pneumonia and would be put on a ventilator. It was mid-January at the height of the Omicron wave. Due to visitor restrictions, Denise had no choice but get her updates on Donald's condition by phone.
"I was told I could call any time," Denise recalls. "I called in the morning but not the evening because if I heard something bad, I couldn't sleep."
Donald would spend the next three months recovering in hospital, including some time in the ICU at the Niagara Falls Site and in a medical ward there in his final few weeks before going home to continue healing. Some days, Donald made great strides in his recovery; others, optimism about his prognosis was scarce. He fought failing kidneys, blood clots and even internal bleeding, anxiety and depression connected to his COVID-19 diagnosis.
Here to help
As soon as she was able, Denise was at his bedside as an essential care partner, supporting him during a time he has little memory of. She held his hand as medical teams worked hard to get Donald better.
Mayra Loayza-Bubb, an inpatient medical social worker, also wrote a letter to help bring their son home from Florida to visit with Don in hospital.
"The personalities of the nurses, the doctors, they were great," Denise says. "And the physiotherapists who worked with him were wonderful. All of the doctors he saw in the ICU were lovely. They were all positive people. He survived it."
Donald was released from hospital April 12.
"It feels good," he says about being home. "It's freedom."
Now Donald, who's working hard to regain his strength and energy after his long hospital stay, wants to ensure others better understand COVID-19, too, particularly the lingering effects of the virus. He and Denise joined the Canadian COVID-19 Prospective Cohort Study (CANCOV), a national study involving Niagara Health Intensivist Dr. Jennifer Tsang that's aimed at better understanding both short- and long-term outcomes of the illness in patients and their caregivers, and predictors of those outcomes.
"We're thrilled to be part of this CAN-COV study for many reasons," Dr. Tsang says. "Firstly, getting more knowledge on the long-term outcome of a novel disease, such as COVID-19, is important to allow the scientific and healthcare community to find ways to treat and support survivors and caregivers. Secondly, having the opportunity to work with a team of scientists and researchers across Canada allows us to learn from each other. Thirdly, it is very rewarding for me to have an opportunity to follow up on the study participants whom I had looked after in the ICU."
The study, spearheaded by Drs. Margaret Herridge and Angela Cheung at the University Health Network, is following 2,000 patients, including four from Niagara Health, and their caregivers from the provinces hit hardest by COVID-10: Quebec, Ontario, Alberta and British Columbia.
Donald and Denise will be followed for one year during the study, completing surveys, phone interviews and bloodwork to track their experiences.
Although he could have stayed focused on his own recovery, Denise says Donald wanted to participate "in case the information could help someone else."
"It seemed like the right thing to do and it's not asking a lot of us," she says.
Also high on the couple's to-do list now that they're back home together is celebrating the progress Donald continues to make every day in his recovery.
"I keep reminding Don of his improvement because he can get a little down  it. He's a person who's never used to sitting still. The hardest thing for him is to rest and heal," Denise says. "Everyone says he's a miracle."