We are Niagara Health is a series of stories that celebrates the incredible people working and volunteering in our organization and how they make a difference in the lives of patients and coworkers every day.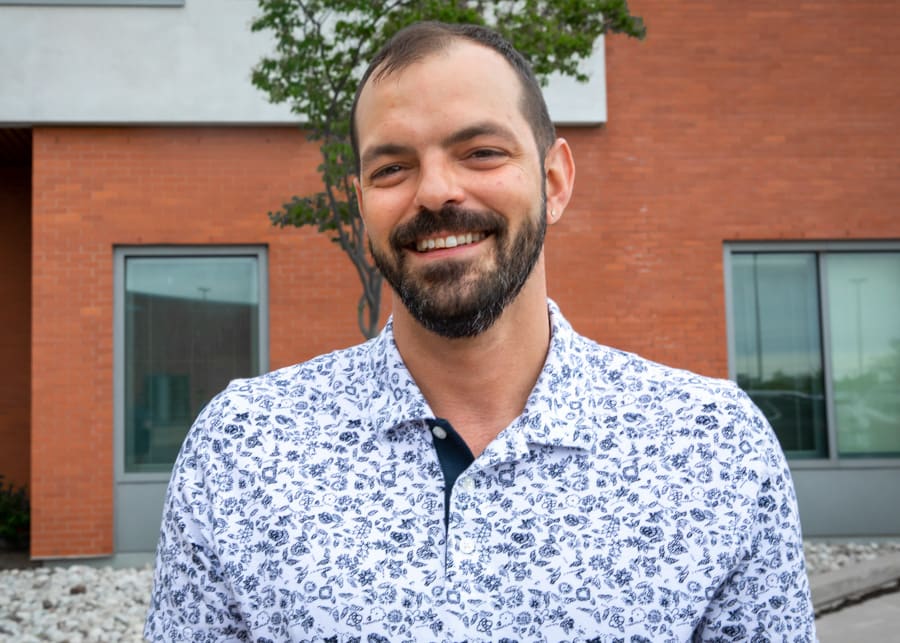 Tristan Castro is the Digital Strategy Clinical Lead at Niagara Health on the project team that will build Niagara Health's modern hospital information system.
Tristen Castro has had a lifelong interest in technology.
Now the Digital Strategy Clinical Lead at Niagara Health, Tristen's interest in autonomous vehicles goes back to elementary school science class in the 1990s. Back then, he was fascinated by self-driving cars and the innovation needed to figure out how to move a vehicle safely through the streets of Niagara Falls.
"I remember doing a science project," Tristen says. "It was all about how technology could help make driving safer and reduce the risk human error brings to driving. Ever since then, I have been interested in how technology can improve our safety, save us time and the countless ways it can enhance our lives."
He recently accepted a new position at Niagara Health with the goal of figuring out how technology can enhance the experience of patients and healthcare providers, and increase efficiency and safety for our organization and the health system in Niagara.
Prior to taking the role as Digital Strategy Clinical Lead on the project team that will build Niagara Health's modern hospital information system, Tristen worked as a nurse in the Emergency Department at the Niagara Falls site.
"I became a nurse because I wanted to help people and make a difference," he says. Now, he's ready to make a difference in a new way – connecting with nurses and interprofessionals from across the organization to collectively build a system aimed at helping our clinicians deliver better care for patients.
When the new hospital information system launches in the spring of 2024, it will allow clinicians to easily access medical records for patients, see details about any medications they're taking, find information about their past visits and more. Among other benefits, it will enhance patient safety, reduce duplication and repetition, enrich communication with patients, and more.
"The hospital information system is not going to be a driverless car," Tristen says. "Our clinicians will still be in the driver's seat because healthcare is all about human interaction. But it's going to help us have access to the information we need, when we need it, allow us to be more efficient and accurate, and help us to avoid asking our patients the same questions over and over.
"At the end of the day, this is all about enhancing patient care and patient safety," he adds.
Having a modern hospital information system will allow clinicians to focus more on their patients and providing quality care, and less on administrative tasks like finding medical records or deciphering squiggly handwriting.
The new hospital information system will have a host of helpful features to enhance patient safety. These will include things like decision support and the ability to use analytics and trends to offer clinical suggestions and alerts, which will make care more efficient and optimize decision-making.
You may not find Tristen behind the wheel of a self-driving car just yet, but he's all about the features that make his own driving safer and more effective from using lane assist to blind-spot technology to relying on his GPS for tips on where to go.
As a clinician, he's looking forward to adding technology that will make his day-to-day work safer, more effective and better for his patients.
"Technology has the power to take away a lot of the stressors in our lives – whether that means a patient can be seen remotely through a virtual care program or that we just have easy access to the information we need when they come in to see us. Technology can help us in so many ways," Tristen says. "I can't wait for the day we launch our new hospital information system and it can start to benefit our clinicians, patients, their families and our communities."