We are Niagara Health is a series of stories that celebrates the incredible people working and volunteering in our organization and how they make a difference in the lives of patients and coworkers every day.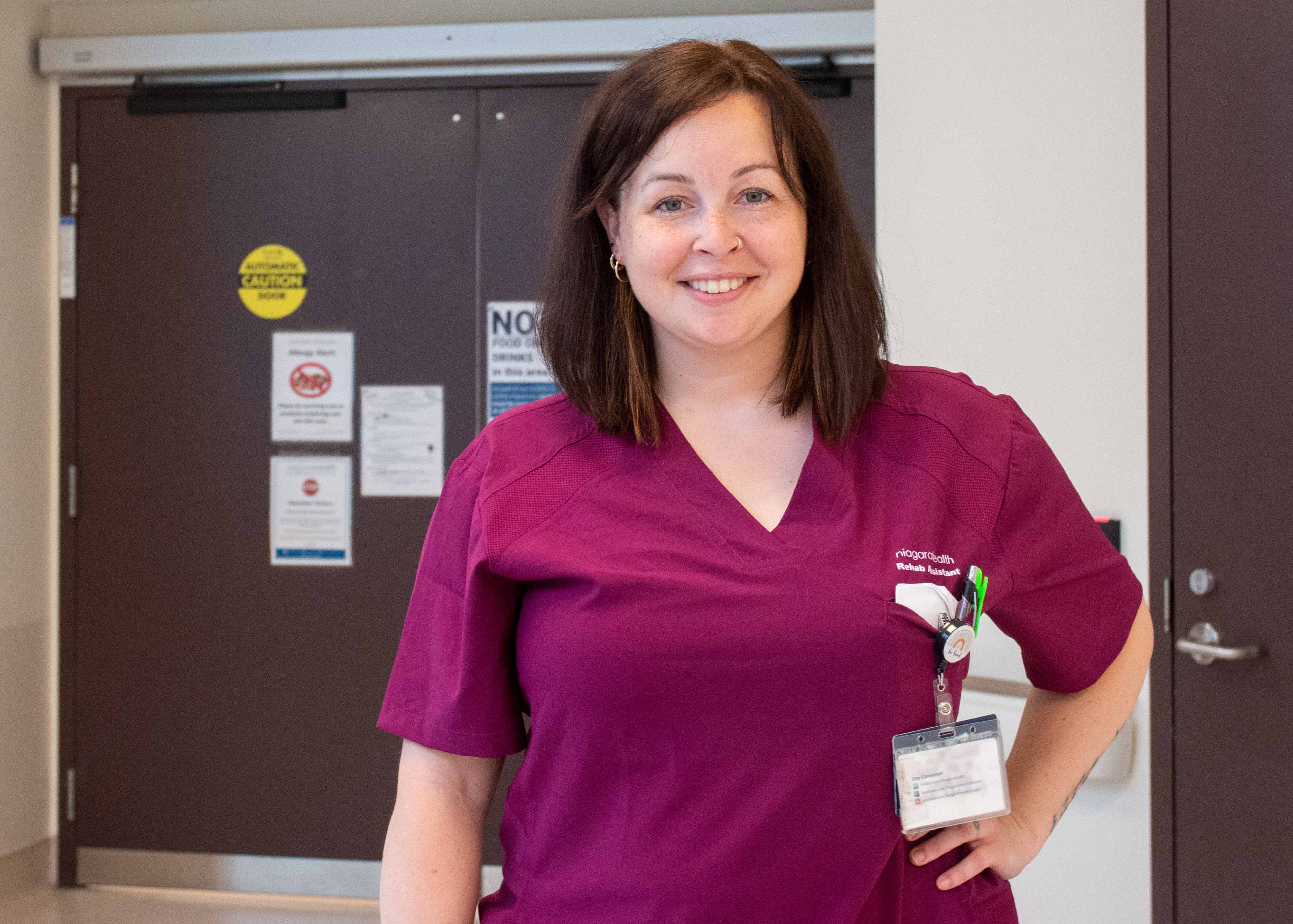 Rehab Assistant Patricia Doyle had only ever heard about musical memory until she gifted a guitar to a patient with dementia and saw positive changes in him when he played it. 
It was German poet Heinrich Heine who said, "When words leave off, music begins."
Heine's poeticism rang true recently for Patricia Doyle, a Rehab Assistant in the 3A medical ward at Niagara Health's St. Catharines Site, whose gift of a guitar to a non-verbal patient with dementia opened the floodgates of communication and connection during his nine-month stay.
"He seemed happier," Patricia recalls about the change she witnessed in the patient when he would play the instrument. "It was heartwarming."
It was a significant difference from when the man arrived on the ward that often cares for older adults waiting for alternate care, such as a bed in a long-term care home.
The man had advanced dementia and needed placement in a nursing home. He had difficulty completing full sentences, Patricia says, and had few visitors in part because of COVID-related restrictions.
Patricia and the patient's relationship was simple in the beginning: a 'hello' when passing each other in the hallway. After doing some research, staff found out the man was a musician. A further Google search by Patricia turned up a video of him playing guitar and performing with his daughter at a local fundraiser.
Patricia had always heard about musical memory, the ability to remember music-related information, including how to play an instrument. It's often preserved in patients with Alzheimer's disease and different types of dementia. She had never seen it play out, however, until she decided to bring a newly repaired guitar, the project of her son's co-op term in a music store, to work with her in order to help the patient pass his time.
Those first interactions with the instrument were a bit of a dance, Patricia recalls.
"I'd hand him the guitar and he would take it and then hand it back to me. I would take it and hand it back. Then I would ask if he wanted to play and he said, 'yeah,'" she says.
He started by playing along to the video with his daughter, who Patricia also contacted to learn more about his musical preferences. Patricia would queue them up on a music streaming app to trigger his desire to play.
Blue by LeAnn Rimes was one of his favourites. He loved playing other old songs, too, becoming a different person when he performed for the 3A team. Even after he would set the guitar down, he was more talkative.
"He liked to play for us. It was refreshing to see him as a person and not a patient anymore," Patricia says. "I've been here 13 years. I've never seen it where someone can pick up an instrument and play."
Connecting with patients on a more personal level is something Patricia strives to do in her role with Niagara Health during her shifts and even on breaks or before work starts. She plays cards with another patient. She also made the effort to learn sign language to communicate with a patient who was hard of hearing. Patricia will often go for hallway walks with others.
It's all an effort to help the nursing staff, she explains. It's also a trait she says she inherited from her mom who worked security at a call centre during her career "but was more like the Walmart greeter."
As for the guitar-playing patient, he moved into long-term care at the end of May. After he left, Patricia made a point of delivering the guitar to him in his new home.
"Because they're here more than a week, I'll take the time to be with them," she says about her efforts with patients. "It helps the nurses. It helps staff and it helps the patients."