We are Niagara Health is a series of stories that celebrates the incredible people working and volunteering in our organization and how they make a difference in the lives of patients and coworkers every day.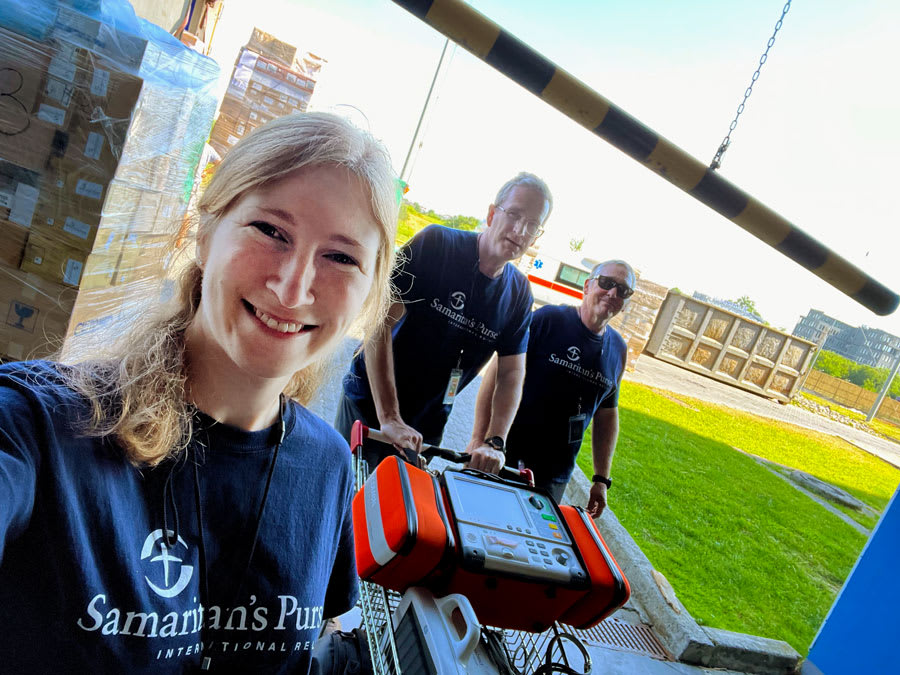 Registered Nurse Kimberly Wiebe (left) with some of her Samaritan's Purse team members in Ukraine in June 2022. Wiebe was part of a mobile medical unit during an aid mission to the war-torn country, helping people in Lviv receive healthcare.
Kimberly Wiebe knew there was good chance her phone would ring soon after she saw the first headlines about the war in Ukraine in February.
When it did, it would be the call to pack her bags. Kimberly's help would be needed – and fast – to provide healthcare and support to the millions of people fleeing the Eastern European country after it was attacked by Russian forces, causing Europe's largest refugee crisis since the Second World War.
Kimberly didn't hesitate saying yes when she was summoned to the war zone by Samaritan's Purse, the Christian crisis relief organization based in the U.S., which she joined after graduating with her nursing degree from Nipissing University last spring.
She was deployed to Lviv two days after she was first contacted by the group in between COVID-19 waves. Kimberly, who works on a casual basis as a Registered Nurse (RN) in the Intensive Care Unit (ICU) at the St. Catharines Site and with the Surgical Program at the Welland Site, would spend the next four weeks providing healthcare, and emotional and spiritual support to Ukrainians desperate for safety and solace.
She returned for a second mission for five weeks earlier this summer, again when COVID-19 pressures at home had eased. Kimberly worked with Ukrainian nurses and doctors, travelling to small centres housing internally displaced persons in central and eastern Ukraine. She also helped operate an ambulance service to help evacuate people in Lviv and transport people to hospital.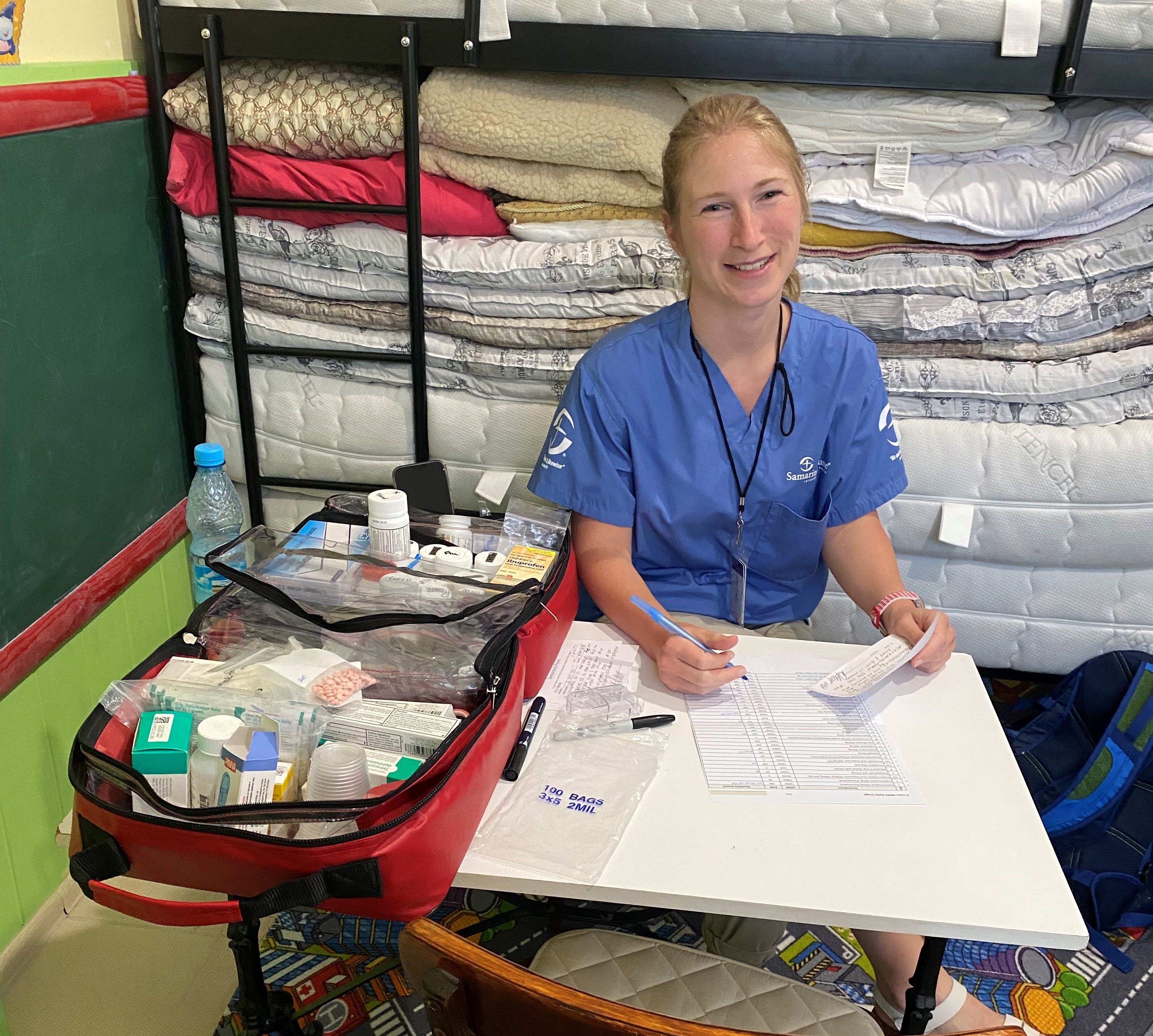 Registered Nurse Kimberly Wiebe did two aid missions to Ukraine with Samaritan's Purse, helping provide people in Lviv with healthcare, and emotional and spiritual support.
"When disaster happens, there are people who don't have that basic access to healthcare that we often take for granted," Kimberly says about her reasons for doing the aid missions. "People are also needing not just healthcare, but someone to talk to and pray with. It's amazing to be able to do that."
Kimberly knew the risks involved with going to a war zone, but says she was far removed from the frontlines and felt confident in Samaritan's Purse's safety protocols. There was, still concern about missiles with Russian forces striking non-military targets. Air raid sirens and shelling were part of the soundtrack, falling quiet for days before attacks would ramp up again.
"(The war) did feel a lot more real for me. While doing the mobile clinics, there were two funerals for soldiers," she recalls. "One of them was the husband of an interpreter's friend. It was a struggle – what to say to support her as she tried to support her friend. It was a lot more real."
Kimberly's compassion in action abroad, just like at home, is a point of pride for those with whom she works.
"I am so moved that Kim had this opportunity to share what is obviously her passion for caring with the people of the Ukraine," says Toni Rogers, St. Catharines Site ICU manager. "ICU and Niagara Health are very lucky to have a nurse like Kim, who clearly demonstrates compassion and caring in action."
Kimberly's work overseas changed her in many ways. Professionally, the experience reinforced the importance of agility in healthcare, which was key when moving and setting up those mobile medical clinics with a doctor and another nurse.
"It's being able to adapt to things. It's a fluid situation. Things shift," says Kimberly, who is home again and caring for patients in Niagara. "It's learning to be flexible and do things as they come."
That's essential to her role at Niagara Health. As a casual RN, Kimberly fills in where needed, when needed, and often on short notice. Just recently off a string of shifts, Kimberly found herself caring for patients in the ICU, the Welland Site fourth floor, and in the Emergency Department.
"You're helping out not just on your home unit but everywhere," Kimberly says.